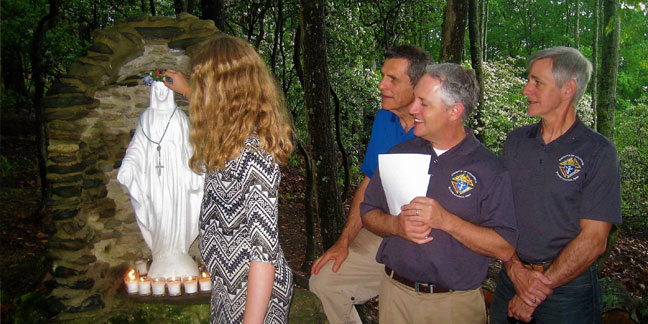 DEEP GAP — A statue of Mary in a grotto atop Taylors Peak was recently crowned for the 18th year by Samantha Lang, a parishioner of St. Elizabeth Church in Boone.
Also pictured are Dr. Jim Taylor, Fourth Degree past Grand Knight; Matt Bagley, Grand Knight at St. Elizabeth Church; and Mike Ihnet, Deputy Grand Knight.
The grotto is on the site of KAMPN's Camp Cogger, which is approaching its sixth anniversary. Each summer the non-profit KAMPN (Kids with Autism Making Progress in Nature) runs Camp Cogger, a nature-based, free summer camping program for children on the autism spectrum and their families.
Learn more at www.kampn4autism.appstate.edu or call 828-264-0054 to find out more about their programs.
—Photo provided by Dr. Jim Taylor