Krispy Kreme Challenge raises $45K to benefit Carcinoid Cancer Foundation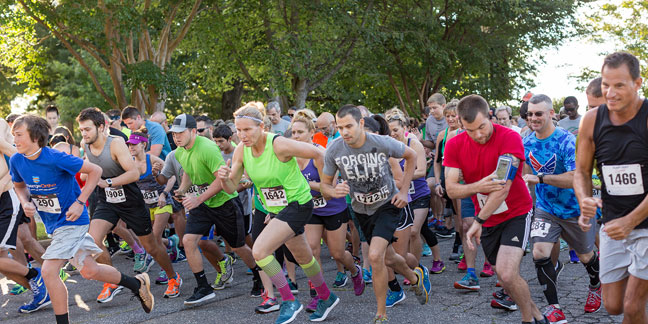 HICKORY — Record-high pre-race registration numbers set the pace for a very successful Krispy Kreme Challenge 5K held June 24 at Lenoir-Rhyne University. More than 600 participants and a crowd of spectators gathered for the inaugural event in memory of Sister Mary Norman. Proceeds totaled $45,000 to benefit the Carcinoid Cancer Foundation.
"What an amazing event and extraordinarily generous gift to the Carcinoid Cancer Foundation!" said Keith Warner, CEO of the Carcinoid Cancer Foundation.
"We thank the Maryvale Sisters who wished to honor the memory of Sister Mary Norman, who passed away from carcinoid cancer in August 2016; Mark Sinclair, committee chair for the Krispy Kreme 5K Run/Walk; Krispy Kreme; and the hundreds of community participants and sponsors for raising awareness of this rare disease.
"Our foundation's mission is to ensure that everyone, worldwide, is aware of carcinoid cancer and neuroendocrine tumors – until then our work is not done. Thank you to all who joined the Krispy Kreme Challenge 5K and supported carcinoid/NET cancer awareness and the Carcinoid Cancer Foundation – you have made a huge difference."
The Maryvale Sisters had never been to a 5K before and had no idea what to expect. "We were completely overwhelmed!" said Mother Mary Louis. "You could feel the friendship and love that permeated the event. So many people came up to us to share how Sister Mary Norman had an impact on their lives or on the lives of someone they know. They thanked us for this special way of remembering her."
RunTimeRaces of Newton managed the event. Owner Kelly Stewart explained, "This is an illustration of how partnerships, teamwork and synergy created a win-win for our community and a very important research organization – Carcinoid Cancer Foundation. RunTimeRaces was very honored to be part of something this significant to our community members."
Krispy Kreme of Hickory and Lenoir was the title sponsor for this inaugural event. Runners and walkers of all ages participated, with medals awarded in specific age categories. A $1,000 award, donated courtesy of Krispy Kreme, was presented to Hard Bodies, team winner with the largest number of pre-registered participants.
Sister Mary Norman was a member of the Maryvale Sisters who operate a large daycare facility in Vale. She served as the director of religious education for more than 30 years in churches in North Carolina, including Hickory, Lincoln County, and congregations as far east as Hamlet and west to Franklin. Sister Mary Norman was instrumental in bringing members of different churches together through special ecumenical book studies, vacation Bible school, and youth ministry programs.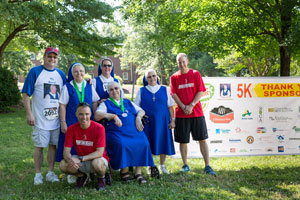 Sister Mary Norman also offered no-cost spiritual direction and counseling to people of all faiths. She was available day or night to help in a crisis. Her gentleness, genuine smile and helpfulness filled everyone whose lives she touched with happiness and hope.
Participating sponsors included A Woman's View, Platinum sponsor. Gold sponsors include: Alex Lee Inc., BOCA, Catawba Valley Medical Center, Custom Design Group LLC, Frye Regional Medical Center and Unifour Podiatry. Silver sponsors include: Abernethy Chrysler Jeep Dodge Ram Trucks-Lincolnton, Cardwell Chiropractic Associates, Carolina Dental Care Center, Catawba Women's Center, CopyMasters Printing Services Inc., EmergeOrtho, Fulbright Lumber Inc., Graystone Eye, Hickory Real Estate Group, LFR Grain and Chemical, Paramount Motors, RAR Richards Appliance Repair, Speagle Grading, Father Wilbur N. Thomas, Vale Veterinary Hospital, vonDrehle Corporation and Wyant Farms.
The Carcinoid Cancer Foundation is the oldest nonprofit carcinoid and related neuroendocrine tumor organization in the United States, founded in 1968. Its mission is to increase awareness and educate the general public and healthcare professionals regarding carcinoid and related neuroendocrine tumors, to support cancer patients and their families, and to serve as patient advocates.
Learn more at: www.carcinoid.org.
— Kathy Chickering, Special to the Catholic News Herald. Kathy Chickering is a member of the Krispy Kreme Challenge 5K Committee.