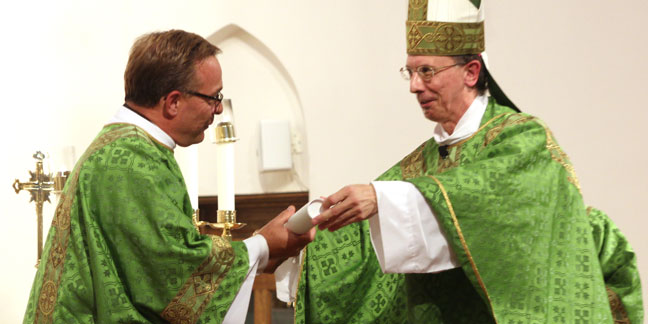 CHARLOTTE — Deacon Daren Bitter, who serves at St. Matthew Church in Charlotte, was welcomed Oct. 8 into the Equestrian Order of the Holy Sepulchre of Jerusalem during a Mass offered by Bishop Peter Jugis at St. Patrick Cathedral.
Deacon Bitter is the first ordained deacon of the Diocese of Charlotte to be invested in the ancient Catholic order for lay men and women. Father John Putnam, pastor of St. Mark Church in Huntersville and chaplain of the order's Charlotte chapter, concelebrated the Mass.
The Equestrian Order of the Holy Sepulchre of Jerusalem was started by the pope during the Crusades when the Church of the Holy Sepulchre in Jerusalem was under attack. Today, they still defend the Catholic identity of the Holy Land through their financial contributions.
There are now 33,000 members of the order in 40 nations worldwide. Members are required to travel regularly on pilgrimage to the Holy Land, providing aid to Christians living in the Latin Patriarchate, which consists of 68 parishes, 44 schools and 90,000 faithful in Jordan, Palestine, Israel and Cyprus.
The global amount of aid annually sent to the Holy Land is more than $10 million. Knights and ladies wear capes featuring a thick red "Jerusalem cross" that has four miniature crosses in each corner of the main cross. Each of the five crosses represents the five wounds of Christ. Learn more about their work at www.holysepulchre.net.
— Patricia L. Guilfoyle | Catholic News Herald