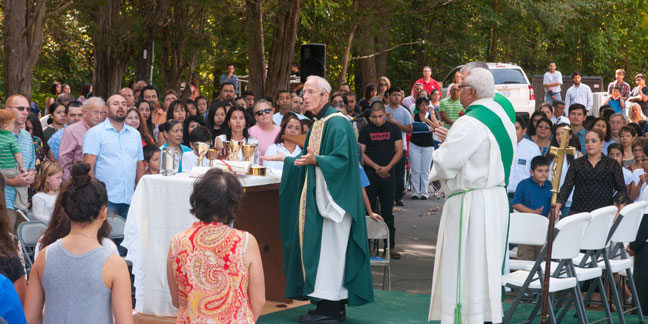 THOMASVILLE — The annual celebration of Our Lady of the Highways Day was held Sept. 24. Our Lady of the Highways Day started in 1989 from a suggestion made by the administrator of Pennybyrn at Maryfield, Sister Lucy Hennessy, who felt that the parish's children were missing out by not having a parish celebration in honor of their patron saint, Mary. Over the years that have followed, Our Lady of the Highways Day has become a yearly tradition for parish members and friends. A combined bilingual Mass was celebrated outside on the church grounds, where under clear skies a rainbow encircled the sun over the church. Everyone enjoyed the food and fellowship.
— Joe Thornton | Catholic News Herald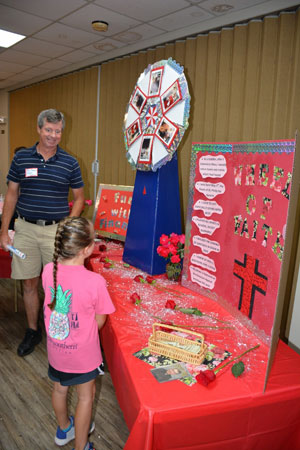 MOORESVILLE — Hundreds of parishioners turned out at St. Thérèse Church recently to enjoy a Feast Day Festival that was full of fun, food and fellowship. Parish ministries sponsored games and activities, including a "Wheel of Faith" of fun facts about the parish's priests, a pie eating contest (which new parochial vicar Father Henry Tutuwan won), corn hole and more.
— Photo provided by Lisa Cash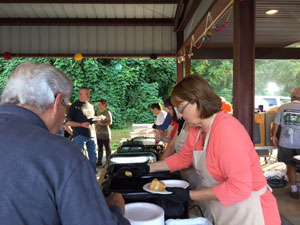 MURPHY ­— St. William Church recently held its fourth annual Cajun Fest serving authentic Cajun food, including crawfish étouffée, shrimp, jambalaya and fish. The annual fundraiser draws hundreds of people from the entire community to sample the food prepared by the St. William Men's Club. Live music was also provided. This year, parishioners especially welcomed Florida residents temporarily displaced by Hurricane Irma.
— Craig Allen | Catholic News Herald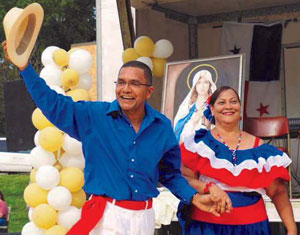 WINSTON-SALEM — Parishioners at Our Lady of Mercy Church recently enjoyed a "Fiesta-val" on the church grounds. The Sept. 24 event commemorating the parish's patronal feast day included great food, games, entertainment and fellowship. Pictured are Hermann Garcia and Rosa Crisostomo.
— Photo provided by Our Lady of Mercy Church