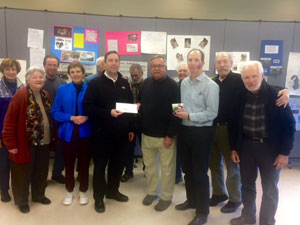 CHARLOTTE — This fall, seven parishes and three Catholic non-profits each received a $1,000 CRS Rice Bowl Mini-Grant from Catholic Charities Diocese of Charlotte to assist with a broad array of services to help those in need.
The 2017 CRS Rice Bowl Mini-Grant recipients are from the following cities: Asheville (three), Charlotte, Greensboro, Jefferson, Linville, Salisbury, Sapphire and Winston-Salem. Funded programs included two community gardens, two nutritional programs for pregnant women, material assistance funding for low-income individuals and families, meals for those who are homeless, two food pantries, and a children's backback food nutrition outreach program.
Catholic Charities' Western Region Poverty and Justice Coordinator Nick Haskell recently had the opportunity to go to St. Eugene Church and meet with representatives from the Society of St. Vincent De Paul Conference of St. Lawrence Basilica, St. Eugene and St. Joan of Arc parishes, and presented a $1,000 Rice Bowl Grant check to the conference.
CRS, founded in 1943, is the official overseas relief and development agency of the U.S. Conference of Catholic Bishops. CRS alleviates suffering and provides assistance to people in need in more than 100 countries without regard to race, religion or nationality. Go to www.crs.org to learn more about its ongoing work.
The Catholic Charities CRS Rice Bowl Mini-Grant applications are available every fall. See www.ccdoc.org/cchdcrs for details.
Joseph Purello is the director of Catholic Charities Diocese of Charlotte's Office of Social Concerns and Advocacy.
– Joseph Purello, special to the Catholic News Herald
Pictured are representatives of the St. Vincent de Paul Conference comprised of parishioners from three Asheville area churches: (back row, from left) Margaret Normile, Mike Donahue, Bob Cozart, Pete Solet, Jack Witzel and Francesco DiIorio; (front row, from left) MaryAnn Wharton, Lynn Brockman, Father Patrick Cahill (pastor of St. Eugene Church), Bob Phillips (St. Vincent de Paul Conference president), Nick Haskell of Catholic Charities, and Bill Hassinger. (Photo provided by James Green)