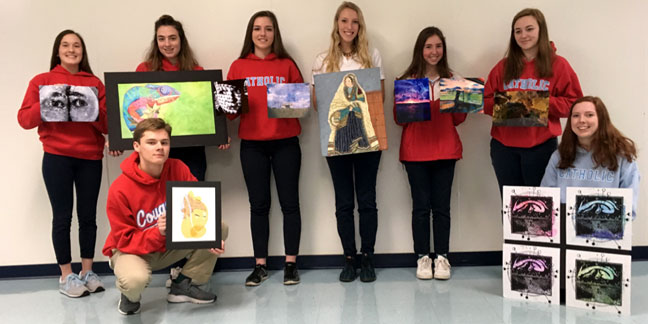 CHARLOTTE — Twenty-one visual arts students at Charlotte Catholic High School recently received awards at the 2017 Mid-Carolina Scholastic Art Awards competition, coming home with seven Gold Key awards, three Silver Key awards and 11 honorable mentions.
The Gold Key art, photography and photographic printmaking by Perris Bowling, Rachel Bruno, Bella Garner, Mallory Gruender, Maddie Kern, Kelley Rossitch and Emily Titman soon will be on display in Spirit Square in downtown Charlotte, and they will be recognized during the Gold Key Award ceremony at Spirit Square Center for the Arts. In addition, their work will advance to national competition in New York City.
Silver Key Award recipients Grace Brady, Kirsten Dugan and Andrew Thornton will have their photographic printmaking and digital artwork on display at the Mint Museum.
Honorable Mention awards for art, photography and printmaking were given to: Kayci Baisley, Ethan Burnett, Jack Dudley, Mallory Gruender, Clara Hahn, Chelsea Leland, Caitlin Murlless, Megan Murlless, Kaia Petras, Catherine Rohan and Luke Workley.
Visual arts instructors Frances Brown, Joann Keane and Bill McKinney said they were pleased to see students' work recognized in such a wide range of categories, including painting; mixed media; architecture and industrial design; painting, drawing and illustrating; ceramics and glass; sculpture; photography; photographic printmaking; and digital art.
"With more than 1,800 entries this year, it's an honor to receive recognition," said Joann Keane, photography teacher.
The Mid-Carolina Region is comprised of Alexander, Alleghany, Anson, Cabarrus, Caldwell, Catawba, Cleveland, Davie, Gaston, Iredell, Lincoln, Mecklenburg, Rowan, Stanly, Surry, Union, Wilkes and Yadkin counties, and administered by the Charlotte-Mecklenburg Schools Arts Education Department. Public, private and parochial schools in these counties are eligible to enter the competition.
"We are extremely proud of these talented CCHS students," said Principal Kurt Telford. "We are so pleased that such a large number of our visual arts students were recognized for their work in a competition of this stature. We're proud of our instructors as well."
— Carolyn Kramer Tillman