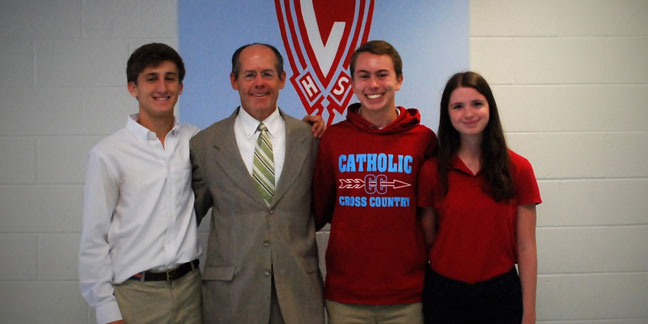 CHARLOTTE – Charlotte Catholic High School is very proud to announce that seniors Mary Cecilia Polking, Connor Blaise Ruff and Matthew Louis Weber have been named National Merit Scholarship semifinalists.
Polking has served on Student Council as a Class Representative and as the Executive Council Secretary. She is in the National Honor Society and the CCHS Color Guard, and has competed on the track team. She has volunteered as an Assistant Catechist at her church, as a tutor at the Missionaries of Charity Convent, and as an Assistant Teacher with Vacation Bible School. She works as a Grader/Assistant at Kumon of Charlotte.
As an eighth-grader, Polking won the 2014 Charlotte Observer Spelling Bee. She won an AP Scholar award as a junior, and earned highest honors on the National Latin Examination four years in a row. She is the daughter of Christian and Jean Marie Polking of Charlotte, and the eldest of eight children.
Ruff is the President of the CCHS Speech and Debate Team, as well as the Captain of the Public Form division of the team. He has had a volunteer internship at Levine Children's Hospital and has volunteered at the Pineville Firehouse.
As a sophomore, Ruff served as Captain of the JV Soccer team. He has played soccer at CCHS all four years, and also played club soccer during his freshman and sophomore years. He works as a soccer referee and at AutoBell as well.
Ruff is in Honors Choir and was chosen to perform with the "Singing Sergeants" of the US Air Force Band. He has earned the Bronze Award from the President's Council on Service and Civic Participation, and studied abroad through Oxbridge Academy. He is the son of Michael and Jenifer Ruff of Charlotte.
Weber attended the Niner Academy Leader Institute at UNC-Charlotte, a summer program focusing on leadership and community engagement. He has played alto saxophone for six years, and as a member of the CCHS Marching Band, he played in the Limerick International Band Festival and the Dublin St. Patrick's Day Parade. He was awarded first chair in the CCHS Symphonic Band.
Weber has volunteered with Servants with a Heart, 24 Hours of Booty, PurpleStride, and the Pancreatic Cancer Action Network. He has run winter and spring track at CCHS, as well as cross country. He won the Cougar Award for Academic Excellence as a freshman and sophomore, and earned First Honors three years in a row. He is the son of Mark and Patti Weber of Charlotte.
Nearly 1.6 million high school juniors from more than 22,000 high schools nationwide entered the 2018 competition by taking the Preliminary SAT / National Merit Scholarship Qualifying Test in the fall of 2016.
Approximately 16,000 students qualified as semifinalists, representing less than one percent of all U.S. high school seniors. This group includes the highest-scoring entrants in each state.
From this group of outstanding students, approximately 15,000 finalists will be named, and more than half of all finalists will receive either a Merit Scholarship or a Special Scholarship from a corporate sponsor. The winners will be announced between April and July.
They will join more than 300,000 other distinguished students who have earned the National Merit Scholar title.
The National Merit Scholarship program was founded in 1955 to distinguish and honor academically talented American high school students and to encourage them to develop their talents and skills to the fullest. The competition is very rigorous, and scholarship winners are chosen based on their skills, abilities, extracurricular accomplishments, and potential for future success.