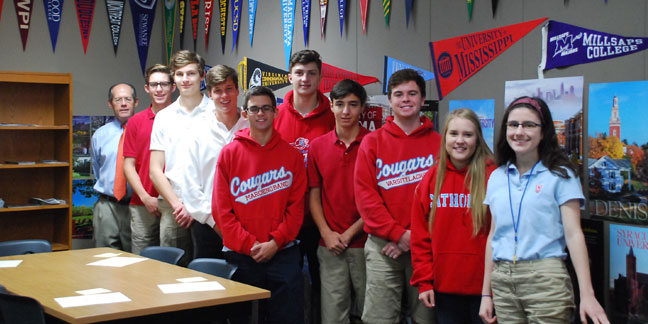 CHARLOTTE – Charlotte Catholic High School is proud to announce that ten seniors have been named Commended Students in the 2018 National Merit Scholarship Program.
Principal Kurt Telford presented Letters of Commendation from the school and the National Merit Scholarship Corporation to these academically talented seniors.
The Commended Students are Jacob Daniel, Austin Franks, Sarah Gilles, Ariel Hobbs, Charles Nenichka, John Powell, Lauren Schmidt, Nicholas Scibelli, Andrew Shooman, and David Williams.
Nearly 1.6 million high school juniors from more than 22,000 high schools nationwide entered the 2018 competition by taking the Preliminary SAT / National Merit Scholarship Qualifying Test in the fall of 2016. Approximately 34,000 students nationwide qualified as Commended Students, and are being recognized for their exceptional academic promise. Commended Students placed among the top 50,000 scorers on the PSAT.
"We are very proud of all of you for your outstanding performance on the PSAT," said Mr. Telford as he presented each student with a Letter of Commendation. "We believe this recognition is indicative of your academic success, and we hope that you take great pride in this accomplishment."
The National Merit Scholarship program was founded in 1955 to distinguish and honor academically talented American high school students and to encourage them to develop their talents and skills to the fullest.
The competition is very rigorous, and the commended students, finalists, and scholarship winners are chosen based on their skills, abilities, extracurricular accomplishments, and potential for future success.