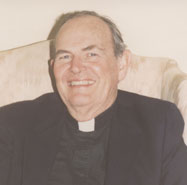 NICEVILLE, Fla. — Retired Father Charles Thomas Reese passed away Nov. 2, 2017.
Born Dec. 27, 1923, in Wilmington, Del., he was one of seven children born to James M. Reese and Elizabeth Conovay Reese, and elected, as did his siblings, to devote his life to service in the Catholic Church.
He was a graduate of St. Ann's Parochial School and a 1941 graduate of Salesianum High School in Wilmington. He entered the novitiate of the Oblates of St. Francis de Sales at Childs, Md. He graduated from Catholic University in 1946 with a Bachelor of Arts in philosophy. He continued his theological studies at the University of Fribourg, Switzerland, in 1949 and finished his theological studies in 1950 with a licentiate in theology from the Catholic University of Switzerland. He was ordained to the priesthood on July 17, 1949.
When he returned to the States, he taught math at Bishop Duffy High School in Niagara Falls, N.Y., for two years and then at Cathedral Preparatory School in Erie, Pa., for four years. He was then asked by his provincial, Father William Buckley, to become a military chaplain in the U.S. Air Force. He served in the Air Force for 24 years with assignments in Thule, Greenland; Libya, Tripoli; London, England; U-Tapao, Thailand; and a number of assignments in the U.S. He was chief of the chaplain's inspection team for the Air Force and ended his career as the staff chaplain to the Commander of the Air Force in Europe. He returned with the Bronze Star and the Legion of Merit medals, Meritorious Service Medal with Oak Leaf Cluster, and retired with the rank of colonel.
After retirement, Father Reese attended N.C. State University, where he earned a master's degree in adult education. He joined the Diocese of Charlotte, where he worked for the next 10 years. During that time he served as pastor of St. Philip the Apostle Church in Statesville; St. Benedict Church in Greensboro; Immaculate Conception Church in Hendersonville; and St. Ann Church in Charlotte. He then retired to Niceville, Fla., where he continued to assist at local parishes and at Eglin Air Force Base.
Besides his parents, he was preceded in death by his brothers, Monsignor Thomas J. Reese and Father James M. Reese, and his sister Catherine R. Hall.
He is survived by his sisters, Maryknoll Sister Mary C. Reese, Elizabeth R. Lynch and Cecilia R. Haywood; and many nieces and nephews and grandnieces and grandnephews.
His family would like to thank the many longtime friends who enriched his life. "Father Charlie" did not desire a public celebration of his life. Any contributions on his behalf should be made to the Maryknoll Sisters, P.O. Box 311, Mary Knoll, N.Y. 10545-0311.
McLaughlin Twin Cities Funeral Home was in charge of the arrangements.
— Catholic News Herald