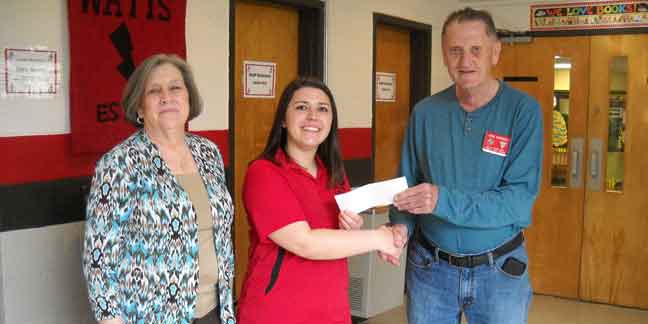 ALBEMARLE — Knights of Columbus Rev. J.A. Cowan Council 10495, associated with Our Lady of the Annunciation Church in Albemarle, recently donated $700 to the Exceptional Children's Program at Badin Elementary School, as part of its ongoing funding of the L.A.M.B. Foundation of North Carolina, which supports agencies in Stanly County that serve citizens who are intellectually challenged.
Pictured accepting the donation from Knight Don Barker is Badin Elementary School teacher Megan Caulder.
Barker said the Badin Elementary School program has received thousands of dollars over the years from the L.A.M.B. Foundation, and its teachers pitch in to raise money for the cause, selling Belk Charity Sale tickets twice a year alongside the Knights.
"This partnership has enabled the program to purchase many teaching tools that otherwise they would not have," he said.
— Jo Grey, The Stanly News & Press