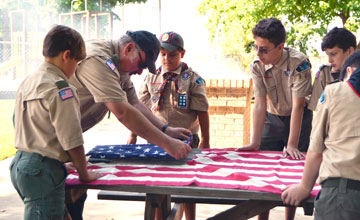 KERNERSVILLE — Parishioners, local veterans, Fourth Degree Knights of Columbus, and Cub and Boy Scouts from Holy Cross Parish took part in a flag retirement ceremony June 10.
During the ceremony, American flags that are damaged beyond repair are carefully cut up a certain way and burned or recycled.
The master of ceremonies was Steve Salvitti, and American Legion Post 36 provided the color guard.
Kernersville Alderwoman Tem Tracey Shifflette was a speaker for the occasion.
— Photos by Paul Doizé, correspondent
As we celebrate Flag Day June 14, check out more about how to properly display the American flag, fold the flag, and dispose of tattered flags: https://www.vfw.org/community/flag-etiquette