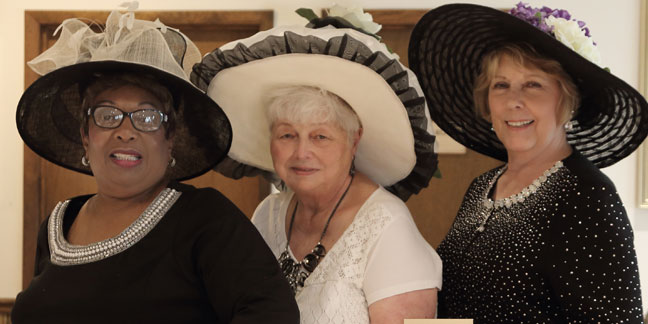 FOREST CITY — Immaculate Conception Church in Forest City recently held its fourth annual Victorian Tea Party in the parish hall, raising $1,300 to go towards the church building debt.
The tea party, hosted by the Ladies Guild, included parishioners as well as other women in the community. Mistress of ceremonies was Joannie Jolley. Ladies Guild volunteers transformed the church social hall into an evocative Victorian setting with fancy plates, napkins and tablecloths, and, of course, dainty cups for savoring the tea selections.
The menu included petite tea sandwiches and finger desserts. Flower arrangements and other door prizes were given out, and a raffle was held for handmade items donated by creative parishioners.
A contest for women who chose to wear fancy hats was also held, and winners were (pictured from left): Carol Davis (third place), Joyce Wallace (second place) and Mickey Bouzon (first place).
— Giuliana Polinari Riley