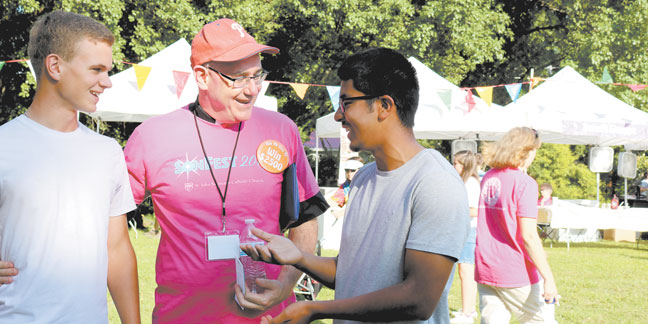 CHARLOTTE — The seventh annual SonFest – part parish festival, part community fund raiser – drew thousands of people to St. John Neumann Church June 9-10 for games, food, music, rides and more in what may be the largest and most diverse event of its kind in the Diocese of Charlotte.
A portion of the proceeds from this year's event will benefit Nevins Inc., a Mecklenburg County charity that provides developmentally disabled adults with education and employment opportunities.
Event chairman Anthony Morlando notes, "We started SonFest seven years ago as a small church festival in the rear parking lot, and year after year it grew as we reached further out into the community. Today SonFest has become a large family-friendly community festival that draws visitors from throughout Matthews, Mint Hill and East Charlotte. When I look back to our little event in the back parking lot, and compare it to the large professional event it has become seven years later, I'm overjoyed and most importantly grateful to all those who work so hard to put on such an important and impressive festival.
If you've attended SonFest in the past, you know this is not just a St. John Neumann event. It's become a community tradition intended to bring together our neighbors, family and friends for a weekend of fun, food and really great music."
"SonFest has become a St. John Neumann tradition, a beginning-of-summer carnival that our families and neighbors look forward to every year," says Father Patrick Hoare, who is leaving as pastor next month. "It has helped make our diverse parish family closer, as we work together to make it happen. The smiles on the faces of our children make all the hard work worth it. SonFest makes memories, and is one of the many reasons I will always be proud to have been pastor at St. John Neumann."
— Photos provided by Marty Schneider and Andrea Dianderas