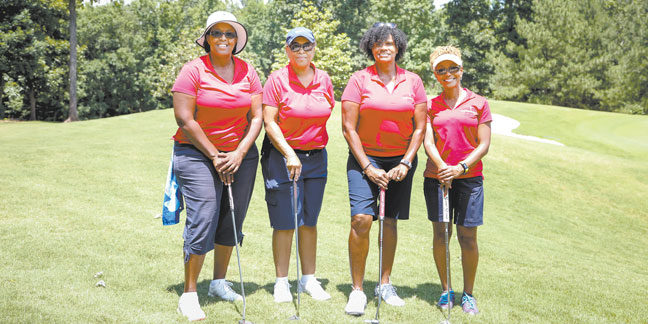 CHARLOTTE — Catholic Charities Diocese of Charlotte held its 14th annual "Drive For Hope" golf fundraiser June 7.
This event, which drew 63 people out to The Golf Club at Ballantyne, raised an estimated $24,000 to support the work of Catholic Charities in the Charlotte area.
Proceeds from the event will be used to help the most vulnerable in the community to move out of and stay out of poverty, especially through programs such as Catholic Charities' food pantry and burial assistance, Transitions Out Of Poverty, counseling and pregnancy support. Pictured (from left) is the four-some of Tracie Gordon, Denise Shropshire, Stracy Steele and Kathy Moland.
Over the past 13 years, more than $120,000 has been raised to help people in the community receive life-saving services. Sponsors included St. Gabriel Church; Kodiak Construction; Anonymous Friends; Technocom; Knights of Columbus N.C. State Council; Schwaba Law Firm; St. Ann Church; St. John Neumann Church; St. Matthew Church; Edifice Inc.; Barker Industries Inc.; and Fitzpatrick Lawn & Landscapes Inc. "Drive For Hope has been one of the major events in the Charlotte area for the past 14 years. Each year, we make new friends and have a little fun while we're at it!" said Sharon Davis of Catholic Charities, who helped to organize the event.
"By supporting Drive For Hope, the golfers, donors and sponsors all play a part in helping transform lives of the most vulnerable in the Charlotte area. Drive For Hope helps everyday miracles happen, whether its food on the table, someone dealing with depression, a baby that is born to loving and prepared parents, or the family waiting to bury their loved one."
— Photo provided by Catholic Charities Diocese of Charlotte