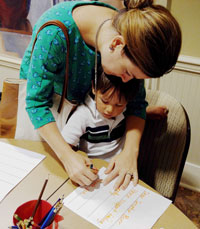 CHARLOTTE — Parishioners at St. Peter Church recently organized a letter-writing campaign to encourage their elected officials to support "Bread For The World," a Christian movement focused on ending hunger in the United States and abroad.
The June 10-11 effort sent more than 536 letters to North Carolina Senators Richard Burr and Thom Tillis, Representatives Alma Adams and Robert Pittenger, and South Carolina Senators Lindsey Graham and Tim Scott. A team of parishioners coordinated by Jesuit Father John Michalowski provided letter templates, writing tools and computer printers to hundreds of people after every Mass that weekend so that they could write and sign letters supporting programs that invest in human potential and help to eradicate hunger.
Parents brought their children to the kid's table set up in Biss Hall where together, adults and youths wrote letters and made colorful posters – making it an opportunity to teach them about the need for Catholics to advocate for the poor and marginalized. St. Peter parishioner Tom Orth delivered the letters to the elected leaders' Washington, D.C., offices on June 12, Bread For The World Lobby Day.
In thanking people for their participation, Father Michalowski said, "God is good. Let us pray that the grace of the Holy Spirit can break down partisan barriers so that our nation can continue to help the poor and hungry both here and internationally."
— Photo provided by Joan Guthrie