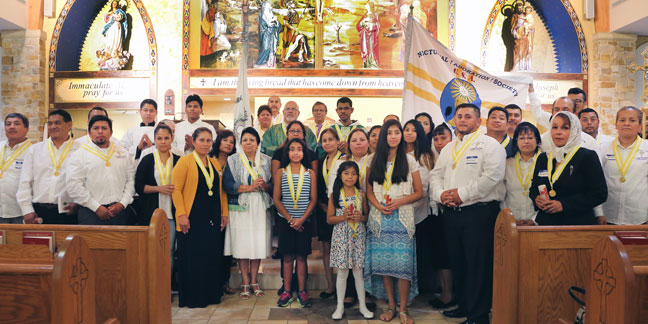 FOREST CITY — Immaculate Conception Catholic Church has established as a chapter of the Nocturnal Adoration Society.
The installation ceremony was held during Mass Aug. 12, celebrated by Capuchin Franciscan Father Roberto Perez.
United States North America Society president Raul Mendoza came from the headquarter in Laredo, Texas, to preside over the ceremony, along with Society officer Antonio Hernandez. Immaculate Conception's Deacon Sigfrido Della Valle assisted with the ritual.
Thirty-five parishioners, including some children, were inducted in the society. Inductees also came from Shelby, Hendersonville, Charlotte, Newton, Mocksville and Franklin, according to Mendoza.
Candidates were inducted in the society individually in front of the altar, where Deacon Della Valle presented them with a badge as remembrance of their commitment to be faithful to the Nocturnal Adoration devotion, while officer Hernandez held the new chapter flag on their shoulders.
Badges were also presented to Father Perez and Deacon Della Valle.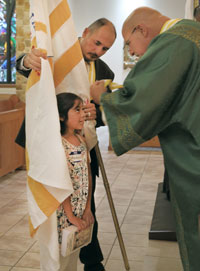 After the installation, dinner was offered in the parish hall, fallowed by a question-and-answer session led by Mendoza and Father Perez.
Mendoza urged the congregation to extend an invitation to English-speaking individuals to participate in Nocturnal Eucharistic Adoration, and emphasized that the Office of the Most Blessed Sacrament book used during the devotion is now offered in both English and Spanish.
The Spanish community of Immaculate Conception Church has observed Nocturnal Eucharistic Adoration for six years on the second Saturday of each month, beginning with a meeting at 9 p.m. followed by Adoration from 10 p.m. to 6 a.m.
— Giuliana Polinari Riley, Correspondent