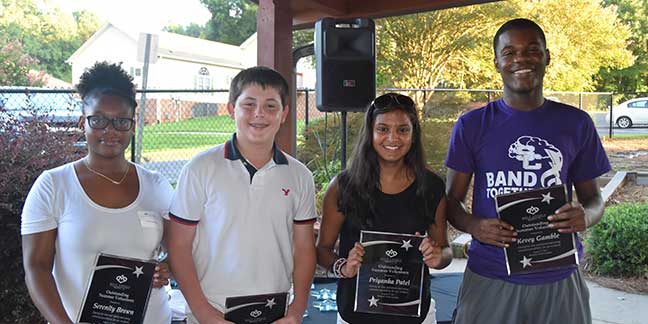 BELMONT — This summer Holy Angels welcomed 107 "volunteens" (middle and high school students) into ITS Summer Volunteen program. Ranging in age from 13 TO 18, these young people shared their enthusiasm and joy with residents, supported employees and LifeChoices participants.
They gave a part of their summer vacation "hanging out" at Holy Angels, spending time helping with boat rides, the horticulture program and music therapy, Camp Wyliewanna (at Camp Hope) and Fun Fridays, and helping out in the office.
According to Regina Moody, Holy Angels' president and CEO, "These students, while having a great time, made a big difference in the lives of the people we serve and had life-changing experiences."
The summer volunteens represented 28 public and private middle and high schools from two states and gave 3,205 hours of volunteer service.
Volunteer Services Manager Donnie Thurman Jr., who coordinated the summer volunteer experience, said, "I believe that this program is one of the best youth programs in the country. It is so successful because of the unique experience that students have with our residents on a daily basis."
Four summer volunteens (pictured above) received the Outstanding Summer Volunteen award because of their exceptional contributions:
- Serenity Brown, 13, is a student from Piedmont Open IB Middle School. She assisted residents in the Morrow Center. Her parents are Shanna and Mario Brown of Charlotte.
- Evan Friday, 13, is a student at Cramerton Middle School. He helped out in the Morrow Center. His parents are Dana and Todd Friday of Gastonia.
- Priyanka Patel, 16, from Highland School of Technology, served in the Morrow Center. Her parents are Kashmira and Kailash Patel of Belmont.
- Kevey Gamble, 16, attends Stuart Cramer High School and was a big help in the LifeChoices program and Oakcrest group home. His parent is Lakisha Lipscomb of Belmont.
Holy Angels was founded in 1955 by the Sisters of Mercy. The private, nonprofit corporation located in Belmont, NC, provides residential services and innovative programs for children and adults with intellectual developmental disabilities with delicate medical conditions.
— Sister Nancy Nance