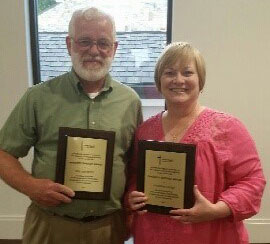 GREENSBORO — St. Pius X parishioners Neil Rochette and Kathleen Allen recently received the "Servant's Servant Award" at the parish's Catechist Appreciation Dinner.
Both Rochette and Allen showed exceptional dedication and service to the parish's faith formation and youth ministry programs over the past year, and exemplified the true meaning of service.
Allen served as a second-grade catechist and helped lead the summer Vacation Bible School program. Rochette volunteered with the parish's high school youth ministry and coordinated Catholic Heart Work Camp.
— St. Pius X Church Echoes