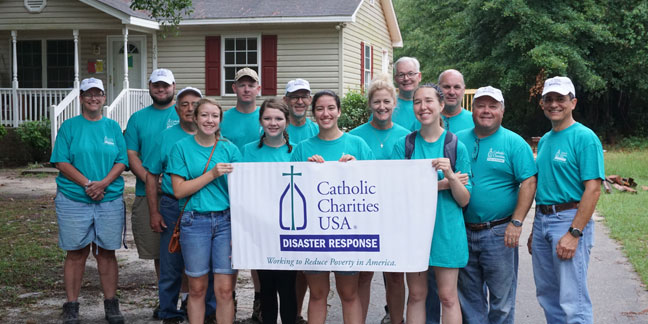 PRINCEVILLE — Fourteen volunteers – including two parishioners from Our Lady of the Rosary Church in Lexington – recently traveled to Princeville, located in the Diocese of Raleigh, to help repair two homes damaged by Hurricane Matthew.
The project was coordinated by N.C. Catholics Volunteer, a partnership between the Catholic Charities, the Knights of Columbus and the Diocese of Raleigh.
OLR members Julia Michaels and her son James drove nearly three hours to Princeville July 29 to join the group of volunteers. The time spent was worth it, Julia Michaels explained.
They wanted "to be able to use our hands and give back a fraction of what we are so blessed to have," she said.
For son James, "it was an opportunity to try something different and something new. We had never really taken part in this kind of construction event."
Others from the group worked on a second home, which was in the process of being repaired. Volunteers installed insulation around the outside walls and put up drywall on the inside walls. When the group first entered in the morning, it was hard to distinguish one room from another because all they saw were studs. By the time the group left, the structure was beginning to feel like a home again.
To learn more about N.C. Catholics Volunteer and find out when the next volunteer opportunity is, go to www.CatholicCharitiesRaleigh.org/volunteer.
— Catholic Charities of the Diocese of Raleigh