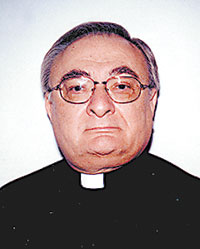 CHARLOTTE — Deacon George Szalony, executive director of the Airport Chaplaincy at Charlotte Douglas Airport, was among 62 airport chaplains from more than a dozen countries who attended the 50th annual International Association of Civil Airport Chaplains Conference in Stockholm Sept. 9-15.
Together, in these turbulent times for airports all over the world, they learned and shared how to reach out to passengers dealing with the emotional and physical strains of air travel. Regardless of their differences in language or religion, airport chaplains minister as one in so many ways, though there are some significant differences. Air travelers worldwide endure the same pressures and tensions. Whether they are located in Berlin or Melbourne or Nairobi or New York, airport chaplains are called to care for and reach out to both the traveling public and airline and airport employees, offering a helping hand to ease the tensions and pressures of air travel.
Three conference sessions dealt specifically with migration. In all countries except the United States, airport chaplains aid refugees who are arriving with government officials. Various groups charter planes and fly refugees to large European cities, leaving it up to the destination airport to decide what to do with people who have little more than the clothes on their backs.
Each day opened with interfaith prayer, and a Catholic Mass was offered in the Stockholm airport chapel each morning. There was a moving Sept. 11 commemoration led by an airport chaplain from John F. Kennedy Airport in New York, who ministered at Ground Zero as a young priest. Eight past presidents shared their vision over the past 50 years regarding airport chaplaincy and where they see this valuable ministry going in the next 50 years.
Learn more about the airport chaplaincy at the Charlotte-Douglas Airport and how to support this valuable ministry by emailing George Szalony at This email address is being protected from spambots. You need JavaScript enabled to view it..