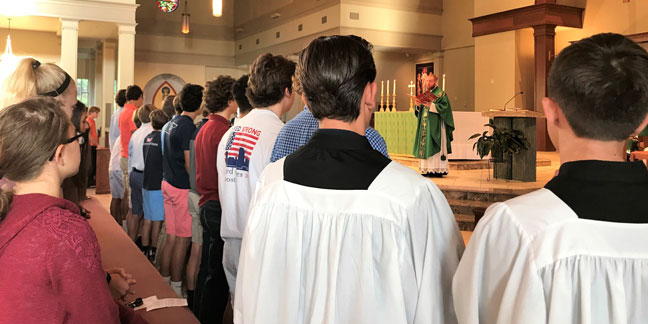 HUNTERSVILLE — Youths at St. Mark Parish will be confirmed in two classes during the 2017-'18 school year, as the parish realigns confirmation preparation classes to the end of the eighth-grade year rather than in the middle of the students' ninth-grade year.
The first class will be confirmed by Bishop Peter Jugis at two Masses (Nov. 30 and Dec. 2), and the second class in May 2018. Students who will receive the sacrament of confirmation this year were invited to Mass Oct. 22 for the rite of enrollment.
The Mass was offered by Father Noah Carter. The rite of enrollment is recognition for the progress they have made in their spiritual formation and receive the assurance of the parish's blessings and prayers as they begin their final preparation for the reception of the sacrament of confirmation.
In return, they are asked to promise to approach their confirmation journey with an open mind and an open heart; to attend and fully participate in all confirmation sessions and activities; to be respectful of the leaders and facilitators of the prep program and show appreciation for their time and effort; to show respect to those in their class on the journey with them; attend Mass every Sunday and on all holy days of obligation; receive the sacrament of reconciliation before their confirmation day; accept more responsibility in their family, parish and community by putting their talents and gifts at the service of others; and commit to daily prayer, praying especially for growth in faith, hope and love.
— Photo provided by Amy Burger