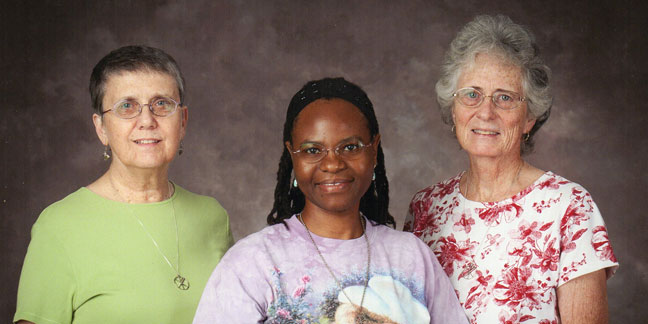 HENDERSONVILLE — Maryknoll Sister Rebecca Nyaki recently said goodbye to Immaculate Conception Church, Helping Hand Developmental Center and St. Gerard House in Hendersonville, where she has been serving for several years.
She has moved to Yonkers, N.Y., where she is now working at the nearby Maryknoll Center.
In May she graduated from the Catholic Theological Union in Chicago with a master's degree in pastoral services and the Maryknoll leadership team in Ossining, N.Y., asked her to take on the immigration ministry there.
The Tanzania native became a U.S. citizen in 2016, and she said she hopes to use her experience as an immigrant to help others who migrate to the United States.
"It has been a blessing to be a parishioner of Immaculate Conception in Hendersonville the last 10 years as we all walk on our journey with Christ," she said. "God bless you all and continue to bring the lost and broken into the arms of Jesus."
She is pictured with Maryknoll Sisters Mary Lou Herlihy and Peggy Lipsio, who continue to serve in Hendersonville.
— Photo provided by Maryknoll Sister Mary Lou Herlihy