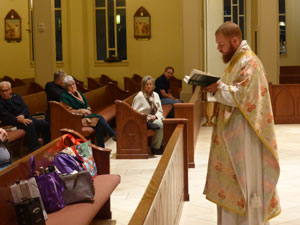 HUNTERSVILLE — St. Mark Parish hosted its second annual blessing of wine on the feast of St. John the Evangelist Dec. 27 during the 7 a.m. Mass. Father Noah Carter, parochial vicar, offered Mass and after a sermon proceeded to bless the wine brought by parishioners.
According to tradition, St. John blessed the cup of wine before drinking and the poison was removed. Afterwards St. John became the patron of wine, and its custom to have wine blessed on his feast day.
The blessed wine can be used for drinking or cooking.