Jorge Gomiz: Catholic identities important to foster Hispanics' faith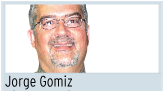 When it comes to providing faith formation and affirming the Catholic identity of Hispanic Catholics, parishes in general are doing a good job. Still others, not being acquainted with how to serve the particular needs of Hispanic Catholics, however, can run into the pitfall of experimenting with one-size-fits-all approaches, such as English-only catechesis, often with unintended results. This may affect the Catholic identity of this vulnerable group as well as may increase the language and cultural gap between a Hispanic child and his or her parents. This could have the most harm in parishes where there are newly arrived, first generation Hispanic immigrants, where for the most part parents and children speak one language.
To this effect, the U.S. Catholic bishops stated in their 1987 National Pastoral Plan for Hispanic Ministry that: "Through a policy of assimilation, new immigrants are forced to give up their language, culture, values, and traditions and adopt a form of life and worship foreign to them in order to be accepted as parish members. This attitude alienates new Catholic immigrants from the Church..." In that same year, Pope John Paul II supported the same pastoral principle in his visit to Native Americans in Phoenix, Ariz., when he declared, "Keep alive your cultures, your languages, the values and customs which have served you well in the past and which provide a solid foundation for the future. The Catholic faith can thrive in any culture."
This fact about Catholic identity is not new. Blessed John Baptist Scalabrini, named "Father to the Migrants" by Pope John Paul II, already in the 19th century reflected on the link between faith and language: "Daily experience tells us that as long as an individual, a family, or a whole community preserves its own native language, it will not likely lose its own faith." This fact is amply supported by a study on religious identification among Hispanics in the U.S. (Adriela, Keysar, Barry, 2001), as well as other religious and sociological studies on Hispanics. The more immigrant Catholics lose their language, the more they will assimilate into our pervasive secular culture, stop practicing their Catholic faith, or go to another faith tradition.
As the Catholic Church in the U.S., our mission is to evangelize, strengthen Catholic identity, promote the mutual enrichment of cultures, and get people to commit to the life and mission of their parishes through discipleship and stewardship.
How can we build culturally sensitive and language-appropriate faith formation programs that will effectively serve the Hispanic faithful of all ages? The following are some pastoral principles offered by an "Outline of Preliminary Findings" from the U.S. Conference of Catholic Bishops in response to the Symposium on Faith Formation in Baltimore, Md., in 2008:
Ecclesial integration versus assimilation strengthens Catholic identity of all in a culturally diverse Church.
A both/and approach on the use of English and Spanish formation programs benefits a much greater number of its participants.
Enculturation of the Gospel is the guiding light for all faith formation programs and projects.
Provide comprehensive and systematic faith formation.
Native leadership within every catechetical ministry is essential to the mission of the local Church.
Empower Hispanics into higher education so they may serve all Catholics.
Cast a bigger net with mission-oriented formation programs and projects.
Focus on process rather than programs with communal perspectives (Family, Community, Fellowship)
Recognize the affective value as the starting point for evangelization and catechesis.
While there may be a series of challenges that parishes deal with, day in and day out, to serve and welcome the immigrants to parish life, there is one that stands out as a two-part commitment: the promotion of unity in diversity, as well as welcoming and fostering the specific identity of each of the many faces in the Church.
Jorge Gomiz serves as the diocesan Hispanic Ministry coordinator for the Charlotte Vicariate.