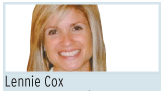 "How often, despite calling themselves Christians, do the faithful not in fact make God the central point of reference in their way of thinking and acting, in their fundamental decisions in life? The first response to the great challenge of our time is then the profound conversion of our heart, so that the Baptism that made us the light of the world and the salt of the earth might truly transform us." I came across this excerpt from Pope Benedict XVI 's address to the Pontifical Council for the Laity from Nov. 29, 2011, and began asking myself: How can I experience this profound conversion of heart?
I'm sure there are a variety of approaches; however, my path has been illuminated by our sweet Holy Mother. And who better than Mary to teach me to place Christ at the center of my life?
Curiously, I had actually been drawn to reading more about Mary prior to coming upon the pope's address. I had spent time contemplating Mary's life, learning about her apparitions and reviewing Church dogma. I even stumbled across a little book well known to many, but foreign to me. It was "Preparation for Total Consecration according to St. Louis Marie de Montfort," which is a step-by-step guide to prepare oneself for consecration to Jesus through Mary.
It compelled me to continue my search. I was blessed with insight and understanding, and ultimately I consecrated my life to our Holy Mother. However, it was neither a scripted process, nor a formal one. Like all gifts that are given to us by Christ, this journey was created uniquely for me.
I came to understand that by consecrating myself to Mary, I was dedicating every aspect of my life to Christ through Mary, and availing myself to be led closer to Christ through my relationship and devotion to His Mother. While the Church maintains a very special relationship with Mary, it was Mary herself who communicated the devotion to her Immaculate Heart throughout the world when she appeared to three young shepherd children in Fatima, Portugal, in 1917. On June 13, 1917, our Blessed Mother said to Lucia, one of the three: "...God wishes to use you to make me known and loved, to establish throughout the world, devotion to my Immaculate Heart. To all those who embrace it, I promise salvation, and their souls will be loved by God as flowers placed by me before His throne."
While our sweet Mother Mary hasn't appeared to me, I do believe I have received a wink and a smile encouraging me to continue to share the devotion to her Immaculate Heart and the promise of salvation. As I learned more concerning the devotion and consecration, I decided to compile my findings in a brochure with illustrations. One of the pictures I selected was a double rainbow. When I see a rainbow, I think of God's covenant and His love for us. So I figured that a double rainbow would appropriately depict Mary's participation in that unconditional love and devotion to both Christ and humanity.
Ironically, not long afterwards, I experienced the most beautiful rainbow I've seen in years. This rainbow was bright, vivid and so close that I could almost touch it. As I continued driving to weekday Mass, I saw it: it was, in fact, a double rainbow! I had never seen one before, but now over the past several months, I've seen three. The most recent was a rainbow that encircled the entire sun with a portion of a double bow below.
Since then, I've read that double rainbows often occur, but the second bow is usually subtle and it helps if you know to look for it. I think Mary is much the same. She is always beside Christ, magnifying His glory – you just have to know to look for her. If we look for Mary, she will reveal herself and draw us closer to Christ, converting our hearts and transforming our lives into the light of the world and the salt of the earth by leading us to place Christ at the center of all that we do, think and say.
Lennie Cox is a member of St. Matthew Church in Charlotte.