Deacon James Toner: Catholics must speak truth to power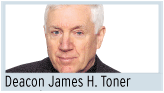 As the Fortnight for Freedom begins this week, here are several points for us to consider, beginning with the three key elements to the reasoning behind the U.S. bishops' initiative:
One: Everything we do has a moral character. Because we must not compartmentalize the teaching of Christ (that is, we must live our Catholic faith every day of the week, not just on Sundays), we recognize that our task is to know that teaching, demonstrate love for that teaching, and serve that teaching. Christ is, after all, truth incarnate (John 14:6). As the bride of Christ, the Church is the "pillar and bulwark of the truth" (1 Tim 3:15), and as such has the duty and the right "to announce moral principles, including those pertaining to the social order" (CCC 2032, see also CCC 2246). When the Church proclaims such enduring moral principles, it is not telling the faithful how (or for whom) to vote, but it is calling faithful Catholics to the duty of a citizenship which conforms to the moral law. "Every society's judgments and conduct reflect a vision of man and his destiny. Without the light the Gospel sheds on God and on man, societies easily become totalitarian" (CCC 2257 and 1896; Col 2:8, Eph 4:14 and Heb 13:9).
Two: Catholics acknowledge our duty to "Caesar" (that is, to society and to the state). We vote, pay taxes, perform military service, and pray for those in authority. As St. Paul tells us: "Let every person be subject to the governing authorities. For there is no authority except from God, and those that exist have been instituted by God" (Romans 13:1; cf. 1 Peter 2:13-14; Titus 3:1; see also CCC 1900, 2238-2240, 2255).
Three: Although we recognize civil authority, our political/civil/social duties are conditional, circumstantial, contingent and contextual – that is, they are necessarily limited, for Christ (not Caesar) is our King. The key passage to consider here is Romans 13:7: "Pay to all their dues, taxes to whom taxes are due, toll to whom toll is due, respect to whom respect is due, honor to whom honor is due." (Also see CCC 1888, 1902, 2242 and 2256). "Due," of course, means "proper," "appropriate" and "deserved." Civil law which violates God's law cannot command Christian assent – such assent isn't "due." "Authority must be guided by the moral law," we read in the Compendium of the Social Doctrine of the Church (396).
Given these three points, consider that:
"A nation without God's guidance is a nation without order" (Prv 29:18; cf. 14:34).
The Manhattan Declaration, which was released on Nov. 20, 2009, states, "We will fully and ungrudgingly render to Caesar what is Caesar's. But under no circumstances will we render to Caesar what is God's."
In 1890, Pope Leo XIII spoke to Catholics then and now: "If the laws of the state are manifestly at variance with the divine law, ... then, truly, to resist becomes a positive duty"; "to obey a ... sin."
The Rev. Dr. Martin Luther King Jr. explained the idea of just law in his 1963 "Letter from a Birmingham City Jail": "How does one determine whether a law is just or unjust? A just law is a man made code that squares with the moral law or the law of God. An unjust law is a code that is out of harmony with the moral law. To put it in the terms of St. Thomas Aquinas: An unjust law is a human law that is not rooted in eternal law and natural law. Any law that uplifts human personality is just. Any law that degrades human personality is unjust."
Archbishop Charles Chaput of Philadelphia also wrote in his book entitled "Render Unto Caesar," "If we really love this country, and if we really treasure our faith, (then) living our Catholic beliefs without excuses or apologies, and advancing them in the public square are the best expression of patriotism we can give to the nation."
The American journalist and writer Carl Schurz offered a similar conviction, saying: "My country, right or wrong: if right to be kept right; if wrong, to be set right."
Finally, the Lord spoke to Solomon, and speaks to us today, when He stated: "If my people ... humble themselves and pray, and seek my presence and turn from their evil ways, I will hear them from heaven and pardon their sins and revive their land" (2 Chr 7:14). Amen!
Yes, we should love our country. Yes, we should be patriots. Yes, we should respect our leaders. But as the first pope said, "We must obey God before men" (Acts 5:29; cf. Ex 1:17, Psalm 118:9 and 146:3; 1 Macc 2:19-22, Dan 3:28, CCC 2044 and 2105).
As Catholic Christians we – as one – must resolutely speak religious truth to political power: You will not tell us how and when to be Catholic. You will not tell us the composition of our conscience. You will not tell us the content of our faith. You will not tell us the character of our actions based upon that faith. You will not tell us that darkness is light, that bitter is sweet, that evil is good, or that false is true. Viva Cristo Rey!
Deacon James H. Toner, who serves at Our Lady of Grace Church in Greensboro, was a political science professor for 35 years before his recent retirement.