Deacon James Toner: A list of recommended books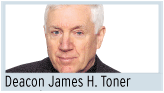 With summer upon us, we may, if we're fortunate, have some increased leisure time, and some of that might well be invested in good Catholic reading. The Catechism of the Catholic Church tells us that "the education of conscience is indispensable for human beings who are subjected to negative influences" – and that is all of us, almost every day – "and tempted by sin to prefer their own judgment and to reject authoritative teachings" (CCC 1783). Good spiritual reading is essential to faith formation – and to faith preservation.
All readers have their favorite books, and these are among the ones I frequently recommend because they are entirely orthodox (faithful to Catholic teaching), readable and reasonably brief. (I'll admit, though, that the Bibles I've suggested can't be read in one or two sittings!) These books are about the holy Mass, about bioethics, about defending the Church, about the media, and about other current and critical issues.
You may find these books at your public library, or the library can get them for you through inter-library loan; or you may order them at a bookstore, or purchase them online. The ISBN (international standard book number) is provided for each entry.
"The Ignatius Catholic Study Bible New Testament." ISBN 9781586172503. This is simply the best one-volume Catholic Bible available for studying the New Testament. Excellent study notes.
"The Holy Bible." ISBN 9781935302292. Printed by Saint Benedict Press of Charlotte, this complete Bible (Old and New Testaments) is excellent for reading and Bible study. Excellent "Faith Fact" notes throughout.
Blessed John Paul II, "The Gospel of Life." ISBN 081983078X. The famous encyclical letter defending life. A beautiful guide to an essential Catholic teaching.
Dave Armstrong, "The One-Minute Apologist." ISBN 9781933184234. Sixty Catholic replies to common Protestant objections to the Catholic faith.
Father Robert Barron, "Catholicism." ISBN 9780307720511. A well-written and beautifully illustrated overview of the faith by the newly-appointed rector of Mundelein Seminary and host of the award-winning "Catholicism" series (which is also available online: Amazon Standard Identification Number BOO5J6U77Q).
Father Matthew Buettner, "Understanding the Mystery of the Mass." Amazon Standard Identification Number 1579182976. An excellent study of the holy Mass in about 100 pages one of our local priests. To increase understanding of the Extraordinary Form of the Mass, I suggest Thomas E. Woods Jr., "Sacred Then and Sacred Now." ISBN 9780979354021.
Michael Coren, "Why Catholics are Right." ISBN 9780771023217. A look at major contemporary issues through the eyes of a Canadian commentator and faithful Catholic.
Bill Donohue, "Secular Sabotage." ISBN 9780446547215. Commentary and viewpoint by the feisty head of the Catholic League about the current assault on Christianity.
Father Benedict Groeschel, "After This Life." ISBN 9781592764426. About life after life.
Scott Hahn, "Lord, Have Mercy." ISBN 0385501706. Superb study of "the healing power of confession."
Abby Johnson, "Unplanned." ISBN 9781414339399. The horror of the real Planned Parenthood by someone who used to work for it.
Peter Kreeft, "Jesus-Shock." ISBN 139781587313943. Short (160 pages) but brilliant study of Christ the King. After you read it, you'll be urging your family and friends to read it, too.
Patrick Madrid and Kenneth Hensley, "The Godless Delusion." ISBN 9781592767878. Pulls the rug out from under modern atheism.
Father Richard John Neuhaus, "Catholic Matters." ISBN 9780465049356. The late Father Neuhaus, master of the English language, examines recent events in the Church and offers an incisive analysis.
Janet Smith and Christopher Kaczor, "Life Issues, Medical Choices." ISBN 9780867168082. Concise and understandable presentation about critical bioethical issues: abortion, artificial insemination, cloning, end-of-life issues and more.
Teresa Tomeo, "Noise." ISBN 9781932927948. A faithful Catholic analyzes what the media are doing and why we should be concerned.
Amy Welborn, "Prove It! Church." ISBN 0879739819. Written for teens but good for all!
Finally, I want to suggest two novels, one very short, and one much longer. Myles Connolly's novel "Mr. Blue" (0829421319) is a superb study of how one man takes Christianity seriously. Read it with a few friends and discuss it. It also contains one of the most powerful and beautiful descriptions of the (Extraordinary Form) Mass I have ever read. The second is Edwin O'Connor, "The Edge of Sadness" (0829421238). O'Connor is known for his great novel "The Last Hurrah" (the movie is good, too), but "The Edge of Sadness" has an unforgettable portrait of priests.
Deacon James H. Toner serves at Our Lady of Grace Church in Greensboro.