The Poor Clares: Image of love's depth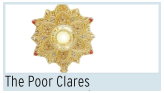 The story of the sinful woman (often considered to be Mary Magdalen) contained in Luke's Gospel (7:36-50) poignantly portrays the depth of love of which a woman's heart is capable.
This woman appears suddenly before Our Lord as He reclines at a banquet. Precious ointment is recklessly and lavishly poured out, dramatic gestures are employed as she bathes the Master's feet in her tears, and dries them with her hair. Does He gently correct the woman's passionate outpouring of love or rebuke her for her humbling surrender? No. Rather, He praises her for "she loved much."
There is much we can learn from this woman's actions; likewise, there is much we can learn from the costly flask of ointment she carries. In the symbol of the alabaster jar, we can find a beautiful image of a woman's heart.
In recent weeks, we have been exploring the qualities of the feminine soul as envisaged by St. Teresa Benedicta of the Cross (Edith Stein). We have looked closely at the qualities of expansiveness, warmth, clearness and quietness. These may be symbolized by the precious aromatic oils contained within the vessel brought by the woman to the banquet where Our Lord reclines. Through the cultivation of these distinctly feminine virtues, the natural powers and pulls of the woman's heart are gradually purified and concentrated into a priceless treasure.
Yet, this great treasure is not made simply to be preserved unused on a dusty shelf. As the ointment in the jar was meant to be poured out, so the woman's heart is filled that it may be emptied for others.
Here we see the beauty of the two qualities of soul we shall focus on this week: to be empty of self and to be self-contained. At first glance, it would seem that these two are contradictory. But in fact, they are each necessary for the other to be fully possible.
The proverbial phrase "You can't give what you don't have" can also apply to the treasures of the soul. When one, through a life of prayer, has begun to weather the agitating storms of emotion and settled into a tranquility, which puts the heart at peaceful rest, then one can indeed be self-contained.
This self-containment is vital for the true blossoming of a woman's spirit. If her interior is not well-ordered and centered squarely on Christ, she will never sound the depths for which she has been created.
And this task is not an easy one.
It requires a daily, constant discipline and a strict guard on the heart to keep love within its proper bounds. Though this may seem intimidating, the joys reaped by such daily faithfulness far outweigh the struggles.
Women have a tremendous desire to be whole, to become truly well-rounded and mature people. This longing will serve as a fuel for the persevering effort needed to reach such personal fulfillment – a desire that is dear to the very Heart of our Creator.
The gift of being self-contained also implies a readiness and potential to then empty one's self for others.
The movements a woman feels within her soul for complete surrender to another and total self-gift can be alarming in their intensity. This passionate inclination can all too easily sweep aside even the inborn human need for the recognition of the dignity and respect that she is due as a person.
If she gives herself over completely to another human person, she will never find rest for the longings of her heart. Women crave to be received as totally as possible. This is why the feminine nature is so inclined to emptying of self.
Does this mean all desires for giving oneself fully to others should be resisted? Doesn't our culture constantly remind us that such submissive inclinations are merely weakness?
Not at all! However, only God is the perfect receiver who will never fail us and who will return our love beyond our heart's wildest yearnings.
As Mary Magdalene shows us in the pages of Sacred Scripture, only God is worthy to receive such an unreserved gift of self.
Edith Stein states this beautifully: "The surrender to which feminine nature inclines is here appropriate; on the other hand, we also find here the absolute love and surrender for which we seek vainly in people. And surrender to Christ does not make us blind and deaf to the needs of others – on the contrary. We now seek for God's image in each human being and want, above all, to help each human being win his freedom."
We see then that such receptivity of soul is a matchless gift and one that is to be bestowed on others when properly ordered stemming from the fundamental outpouring of self for God.
This receptivity is also a quality that is intended by God to be mirrored by women for their masculine counterparts.
In the spiritual life, the soul of every human being is considered to be feminine in relationship to Christ, the Bridegroom. Whether we are created as male or female, receptivity, self-emptying and surrender are essential for the union of our soul with God.
What a privilege belongs to women, to so clearly be images of these values to our world! And how great a responsibility it is to pour out upon others what is so deeply implanted in woman's heart.
Having become by God's grace more and more self-contained and fulfilled in Him, and having broken the vessels of great worth at His feet for the good of souls, women shall become more truly feminine in the way that Our Lord desires.
We shall look next time at the final and crowning quality of the soul of woman: to be mistress of the castle of her heart at the side of the great King as His handmaid.
Sister Marie Thérèse of the Divine Child Jesus is professed with the Poor Clare Nuns of Perpetual Adoration St. Joseph Monastery in Charlotte. Learn more about the Poor Clares at www.stjosephmonastery.com.
This is the fourth in a five-part series exploring Edith Stein's views on womanhood. In the next edition: "Queen of the Castle."
See previous parts of the series in the Viewpoints section.