The Poor Clares: Queen of the Castle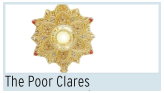 What little girl has not dreamed of being a princess or a queen? What young woman has not longed for a "Prince Charming"? Even in our modern democratic world, why are many women still so intrigued by the pomp and circumstance of royalty?
Deeply embedded in the heart of woman is a yearning for beauty, for nobility, for the dignity of being a true lady. There is a genteelness inherent to the feminine nature which is not born of haughty arrogance, but is queenly in the most Marian sense of the word.
St. Teresa Benedicta of the Cross – or as she is more popularly known, Edith Stein – had many insights on the ideal image of the feminine nature as God has created it to be. She came to see particular feminine gifts as comprising seven qualities of soul.
In the past few weeks, taking us literally on a journey to the center of the heart, Stein has helped us explore the qualities of expansiveness, warmth, clearness, quietness of soul, self-containment and emptiness of self. Lastly, she has led us to the pinnacle of true womanhood: the ability of the soul to be "mistress of itself."
Each of the values encapsulated in these gifts has shed light on how to strengthen women's natural capabilities. Refined in the fire of self-discipline, they may form a precious "pearl of great price" in fulfillment of God's will and as a gift for others.
In the end, we are brought to the truest form of royalty possible for any human being. To be mistress of oneself amid trials and temptations, among countless distractions and dueling emotions, is a treasure indeed. No greater freedom may be found than to stand beside the King of Kings, as His ready handmaid. When the keys of woman's heart have been placed in the keeping of Christ the King, then the fairy-tale dreams of girlhood may become a reality greater than the throne of any earthly kingdom.
St. Elizabeth of Hungary sheds a luminous ray on this image of the glory of true womanhood. She was a wife, mother, princess, widow and a member of a religious order. Her example spans many vocations, and she lived them all in 24 short years of life.
Her biography reads like a commentary on Proverbs 31, a beautiful passage well worth meditating upon, which extols the virtues of a good wife.
St. Elizabeth was a woman deeply in love with Our Lord, her soul's King. But she was also passionately devoted to her husband. Her beloved Ludwig was for her a direct image of Christ, and the particular way for her to reach the Heavenly Kingdom was to be found in a their mutual journey to the Heavenly Kingdom. Her deepest joy was to be his loving and supportive companion in this life and to play her part in bringing his soul to ever greater union with Christ.
She cherished their two children with intense motherly love, and she delighted to sacrifice herself for them. Her generosity went far beyond the needs of her own family. As a princess, she had great compassion for her people, and she used her wealth and position as a tool to serve them more. Possessing unshakable confidence and great freedom of heart in the fulfilling of God's will, she did not even hesitate in her zeal to aid the sick and the poor. Her husband was quite surprised to one day find a leper in his own bed!
When St. Elizabeth's husband died tragically, she nearly went out of her mind with grief, to the alarm of those who knew her. But these intense emotions were transformed into an outpouring of love for Our Lord. To Him she completely dedicated the last years of her life, making with joy the vows of poverty, chastity and obedience, and leaving behind all the glory of the kingdoms of this world for one much greater.
We can see in this saintly life what heights of holiness the gifts of womanhood may lead to, when one has become truly mistress of one's self.
Stein makes an interesting observation on this quality by emphasizing that to be mistress of one's soul, one must first be mistress of one's body.
One of the saddest things about the feminist revolution, which that has been nourished by our culture, is that it has stripped women of the deepest values of the feminine nature. It has tricked women into trading the qualities inherent their souls for the derogatory role of being sex objects.
Women have been taught and encouraged to become over-sexualized, to view their bodies as instruments for gaining men's attention, rather than as dwelling places for their immortal souls.
There is indeed a powerful beauty and attraction in the feminine body which God has placed there by design. But this should add to the dignity of woman, rather than constituting a reason to discard the deeper gifts of her nature.
Victor Hugo, in his classic novel "Les Miserables," attested to this deep-seated harm to the dignity of women. Speaking like a prophet of our times, he wrote, "The holy law of Jesus Christ governs our civilization, but it does not yet permeate it. They say that slavery has disappeared. That is incorrect. It still exists, but now it weighs only on women; that is to say, on grace, frailty, beauty, motherhood."
Hugo was not speaking of women's inability, at the time of his writing, to vote, or even of a lack of "equal opportunity" employers in 19th century France.
His words point to what women must strive to rediscover in our own day. There are tremendous gifts to be cherished and celebrated which make up the glory of the feminine nature. These gifts are not skin-deep. Women are called to plunge deeper than passing fashions and the right weight on the scale to find where their true worth lies.
By cultivating the qualities of soul to which Stein points us, women may truly break free of the chains of slavery and become mirrors of the woman par excellence, Our Blessed Lady. There is no higher position to aspire to, no better model to imitate, than she who was chosen from our race to be the very Queen of Heaven.
There is nothing greater than to be what God has willed from all eternity. In the act of creating the soul according to the pattern of His perfect design, He has planted the seed within us of complete fulfillment. Shall we let it wither, or shall we allow it to come to full bloom in the garden of our Maker?
Our culture is in desperate need of true "feminists" who understand and cherish the beautiful gifts God has bestowed on women, and who refuse to surrender them for anything less. Perhaps as a world we have moved beyond kings and queens on earthly thrones, but the need is great for noble souls who understand what gifts of nature and grace are theirs by the plan of our Creator. May a new springtime and renewal of our culture be ushered in by the loving hearts and caring hands of fearlessly feminine women of God.
Sister Marie Thérèse of the Divine Child Jesus is professed with the Poor Clare Nuns of Perpetual Adoration St. Joseph Monastery in Charlotte. Learn more about the Poor Clares at www.stjosephmonastery.com. This is the last in a five-part series exploring Edith Stein's views on womanhood. Read previous commentaries in the series online at www.catholicnewsherald.com/viewpoints.
For further reading
"Essays On Woman: The Collected Works of Edith Stein"
"The Privilege of Being a Woman" by Alice von Hildebrand
Learn more at the Edith Stein Foundation: www.theedithsteinfoundation.com
"As a brilliant feminist scholar she was able to challenge certain assumptions of the day, arguing for greater involvement of women in the liturgical life of the Church, in the professions, and in the workplace. ... It is a remarkable tribute to her persona that she was able to harmonize these feminist aspirations with her abiding belief that at the deepest core of woman's personality one will find receptivity and motherhood. Not a "barefoot and pregnant" reductionist view of motherhood, the kind which sees woman as a passive prisoner of her biology, and slave to her tyrant fertility. Rather, she saw receptivity and motherliness as woman's unique power, a power capable of transforming a home, workplace, professional environment, country, or society in ways that men cannot."