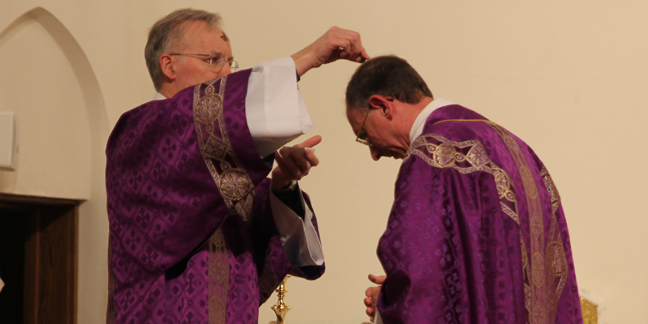 CHARLOTTE — Thunder crashed and lightning pierced the night sky, but the faithful inside St. Patrick Cathedral heard a comforting message from Bishop Peter Jugis as he ushered in Ash Wednesday and the start of Lent March 1.
Severe thunderstorm warnings throughout the Charlotte region did not deter several hundred faithful from attending Mass for Ash Wednesday evening at the cathedral, where they received ashes on their foreheads as an outward sign of the start of their Lenten journey of prayer, fasting and almsgiving.
"We're on the threshold of an exciting season which begins today, the holy season of Lent," Bishop Jugis said in his homily.
Lent is a "season of grace, where we bring our lives before the Lord Jesus, our Savior, our Redeemer, and ask Him to purify our hearts," he said, "to give us His grace, to remove those sinful attitudes and sinful behaviors that still may be lurking and dwelling in our hearts, and to remove all obstacles to our response to His grace."
Bishop Jugis encouraged the faithful to view the six weeks of Lent as a "spiritual retreat," a journey towards the Lord that involves "interior renewal" and conversion of heart.
Lent is all about "turning away from sin and embracing the Lord's compassion, His love and His mercy," he said.
Use these 40 days as an opportunity to honestly evaluate one's life and discern those areas that need improvement or corrective action, he said.
"Don't get discouraged that it's a long six weeks, because you can do it! Six weeks is not that long," he said with a smile, especially "if you look at it as a retreat every day, walking with the Lord and listening to Him, and doing your spiritual exercises to come to the celebration of Easter."
He continued, "As with any new beginning, of course, there is a sense of encouragement and optimism, an attitude of eagerness, waiting to get started."
Lent is not only an interior journey, he said, but also an opportunity to show our love for the Lord and commitment to our conversion through our outward behavior – our acts of charity, such as giving alms or reconciling with others.
Finally, Lent gives us the opportunity to receive God's grace through the sacrament of reconciliation, Bishop Jugis said. He encouraged the faithful to seek the sacrament this Lenten season.
The sacrament reconciles us to God and cleanses us of our sins, he said, "cleaning out the house so that we're making that fresh beginning that He wishes of us during this beautiful season of grace."
With the help of God's all-powerful grace this Lenten season, Bishop Jugis said, "He can accomplish anything, and change even the most hardened sinner. Even the sins that are most deeply rooted, He can change and convert us – if we allow Him to."
— Patricia L. Guilfoyle, editor