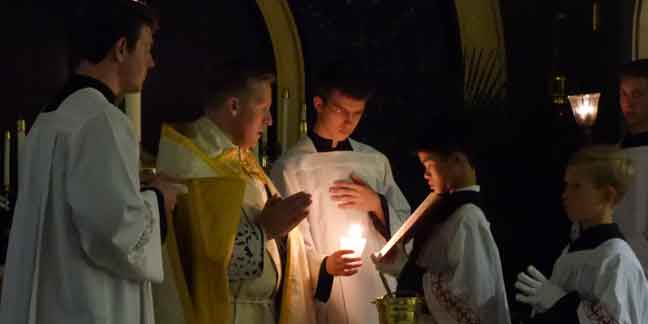 CHARLOTTE — St. Ann Church and the Charlotte Latin Mass Community concluded its first Easter Triduum in the Extraordinary Form with the Solemn Easter Vigil service held at the Charlotte Catholic High School chapel on Holy Saturday.
Close to 150 faithful attended the solemn liturgy which began with the solemn blessing of the new fire, continued with the recitation of the four prophesies foretelling of the coming of the Redeemer, followed by the blessing of baptismal water and renewal of baptismal vows, and concluding with the first solemn Mass of Easter Sunday.
The liturgy and Mass were offered by Father Jason Barone, priest in residence at St. Ann Church and Charlotte Catholic High School chaplain, who also offered the Holy Thursday and Good Friday liturgies.
After the Vigil, the Charlotte Latin Mass Community hosted a small outdoor celebration feast in honor of Christ's resurrection which concluded around midnight.
The next afternoon, many of the same faithful also packed St. Ann Catholic Church to attend the Solemn Latin Mass of Easter Day, which also was offered by Father Jason Barone.
The St. Ann schola was also joined by the Cantate Domino Latin choir which provided beautiful Gregorian chant. The festivities ended with an additional celebration after Mass.
The well attended Triduum liturgies and Sunday Easter Mass marked not only the first diocesan Latin Easter Triduum but the continued growth of the Latin Mass faithful across Charlotte and beyond. Attendees came from as far west as the Smokey Mountains and as far east as Raleigh.
For more information on the Latin Mass, please contact the Charlotte Latin Mass Community at This email address is being protected from spambots. You need JavaScript enabled to view it. or visit www.charlottelatinmass.org.
— Mike FitzGerald, correspondent