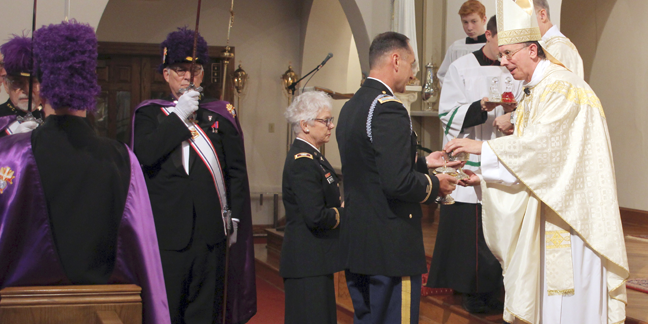 CHARLOTTE — The end to war and conflict in this world can come only from following God's ways, Bishop Peter Jugis preached during a Mass offered on Memorial Day.
The May 29 Mass at St. Patrick Cathedral was offered for families and friends of those serving in the military, veterans, and especially for service men and women who have died serving the United States.
"The mission of these men and women," Bishop Jugis said, "has always been to protect freedom. Their mission has always been to safeguard human dignity and to establish peace."
In his homily, Bishop Jugis reflected on the fourth chapter of the Letter of James, which poses the eternal question: "Where do the wars and where do the conflicts among you come from?"
That question "is just as relevant today as when he first wrote it so many centuries ago," Bishop Jugis said.
James' answer is that "wars and conflict among people ultimately come from the wars and the conflicts that are within the human heart," he said.
"It comes from the fact that people do not know God. They may know about God, they may know there is a God, but how many people have converted their hearts to follow God's ways?"
In his letter, James decries some of the sinful behaviors that cause conflict: envy, jealousy, pride and selfishness. He entreats Christians to practice the contrasting virtuous traits of humility, purity of heart, and submission to God's will:
"So submit yourselves to God. Resist the devil, and he will flee from you. Draw near to God, and He will draw near to you. … Humble yourselves before the Lord and He will exalt you." (James 4:7-8, 10)
"The remedy for all this war and conflict is God," Bishop Jugis emphasized. Peace and justice can come from God alone, he said.
Because "so many people in the world have not yet come to know God and follow His commandments and converted their hearts to Him," he said, "the Church never ceases to proclaim God's Gospel in every country, in every community of the world – calling people to conversion to Jesus, to forsake the ways of envy, jealousy, pride and selfishness, and everything that is separating us from God."
Christians must spread the Gospel just as Jesus taught in the Beatitudes: to be peacemakers, to be merciful, to be pure of heart, to be meek.
"Jesus is the Prince of Peace. His message is the path to harmony, concord, understanding, reconciliation, and peace and justice among all nations," Bishop Jugis said.
"During this year of the Immaculate Heart, as we honor the apparitions of Our Lady of Fatima 100 years ago, we even hear her echo Jesus' message, pleading for peace," he said. "If we pray for peace, nations will be converted. They will embrace the Gospel message that God has delivered through His Son Jesus."
"Let us pray that God continue to convert our own hearts to His Son's Gospel, and that the grace of Christ will lead us into the way of peace," he prayed.
— Patricia L. Guilfoyle, editor