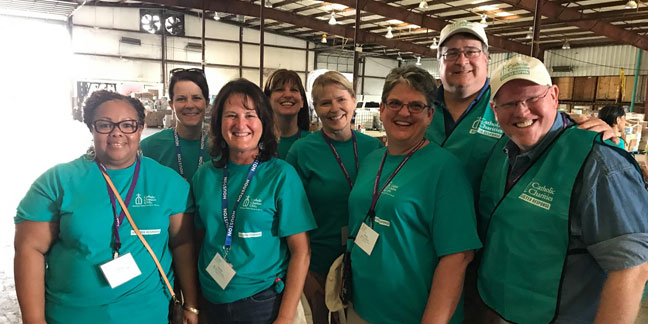 HOUSTON — Leaders from Catholic Charities Diocese of Charlotte took time out while attending the annual gathering of Catholic Charities USA in Houston Sept. 28-30 to aid victims of Hurricane Harvey in the region.
They were part of a team of more than 50 Catholic Charities colleagues from around the United States who helped at a Houston warehouse sorting, boxing and loading donations of food, cleaning supplies and hygiene products to distribute to people affected by the hurricane in the Houston and Beaumont, Texas, areas.
They also joined CCUSA's Mobile Disaster Response Unit at a north Houston neighborhood that was hit particularly hard by Hurricane Harvey, which cut a swath through Texas and Louisiana in late August. The Category 4 storm dumped more than 40 inches of rain in four days, which caused unprecedented flooding that damaged hundreds of thousands of homes, killed more than 80 people and displaced more than 30,000 people. The neighborhood where Catholic Charities staff spent time had been flooded, and residents' drinking water was contaminated. Volunteers canvassed the area distributing food, water, diapers, cleaning supplies and personal care items.
"I am humbled and blessed to be a part of the body of Catholic Charities USA as we're all going to work for Houston. It's a very humbling experience to be here to support and to reach out to our brothers and sisters, and to do just what we can, to help to ease a bit of the challenges that they're facing. We want the folks of Houston to know that we support you, we stand with you, and we're just happy to be here," said Sharon Davis, social work/program assurance director for Catholic Charities Diocese of Charlotte, while out in the north Houston neighborhood.
Dr. Gerard Carter, executive director of Catholic Charities Diocese of Charlotte, said after their return from Houston: "Two images still stand out in my mind as I surveyed the destruction left in the wake of Hurricane Harvey. One was seeing children's toys spread out on the ground beside a trailer just waiting to be carried off to the dump. The other was seeing people's clothing simply littering the roadway, being run over by cars as part of the debris that was everywhere. I know that many people lost even more, but in that yard and on that street the human component of this hurricane was just so clear and so sad. At the same time, I was very proud to be part of the national Catholic Charities response because our agency staff were, in a very small way, able to offer comfort and hope to those in need."
—Photos provided by Catholic Charities Diocese of Charlotte