Deacon Michael Goad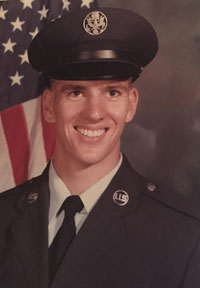 CHARLOTTE — Deacon Michael Goad, who now serves at St. Gabriel Church, was only 18 when he entered the U.S. Air Force in 1979 and found himself stationed 1,100 miles from his childhood home in Aiken, S.C., at Dyess Air Force Base in Abilene, Texas.
During his four years of military service, Deacon Goad worked as a C-130 aircraft mechanic, earning the rank of E5 staff sergeant. He credits his Catholic faith and his time of enlistment with preparing him for a life of service.
"God came into my life and my heart at the age of 10, in what I refer to as 'my awakening,'" Deacon Goad recalls.
Growing up, he attended Catholic schools staffed by the Sisters of Charity of Our Lady Mercy.
"My faith, taught to me by those sweet Sisters of Charity of Our Lady of Mercy, didn't force Jesus into my head, but rather loved Him into my life," he explains. "The Church was my anchor of familiarity as I made my way out into the world for the first time. The military gave me the confidence to live anywhere."
He credits one of the nuns with helping him become the man he is today. "Sister deNeri Faase was as tough as nails. She was demanding and expected us to be more than who we were.
"Anytime I encountered a challenging moment while in the service to my country, I'd always in my heart think, 'What would Sister deNeri expect of me?' She was my compass during those years."
From his years of service in the military, Deacon Goad says, he learned a valuable lesson that has helped him in his vocation as a permanent deacon: to lead, one must first learn to follow.
"Looking back on those days, I suppose I have always been a nurturer by nature," he says. "So being called by the Holy Spirit yet again to a life of service as servant is like wearing old comfortable clothes."
"I love being a joyful herald of the Good News! As a servant to the People of God, I still cannot adequately articulate this invitation God has invited me into. I still cannot believe I get to do this. God has always been generous to me and I am eternally grateful to be His son."
He says he is proud to have served in the U.S. military because "as a patriot I owe much to her: my freedom, liberty and the pursuit of happiness. I have always felt a deep desire to love and to serve something greater than myself. She deserves my fidelity," he explains.
"I am proud to serve the Church now as a deacon because She possesses my heart. She reveals to me, in a most profound and meaningful way, God's loving grace, mercy and forgiveness through the sacramental life of the Church.
"She teaches me how to love others as our Heavenly Father loves each of us. God is good!"
DEACON KEVIN AND THERESA WILLIAMS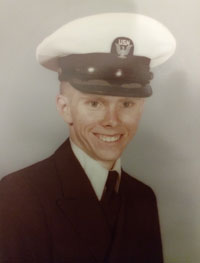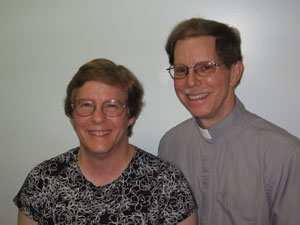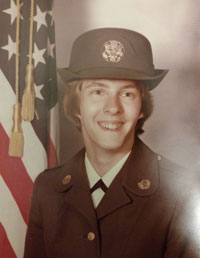 When they were in their late teens, Deacon Kevin Williams and his wife Theresa joined the military. Deacon Williams served in the U.S. Navy from 1977 to 1981 as a musician 3rd Class. Theresa served in the U.S. Army from 1977 to 1980 as a specialist 4th Class. The two met in 1977 at the Armed Forces School of Music in Little Creek, Va. Deacon Williams played the trumpet in the Navy, and Theresa was a percussionist in the Army band.
During their enlistments, the couple had different views on the practice of their Catholic faith, with Theresa actively living a sacramental life, while Kevin was not active with his faith.
"My faith played a big role (in my time of service in the military)," Theresa Williams recalls. "I prayed the 23rd Psalm a lot during boot camp. I also had a lot to pray about during the rest of my commitment."
Deacon Williams admits he drifted away from the Church and did not have an active prayer life when he was younger. "I only went to Mass occasionally with Theresa because it was important to her," he recalls.
Both are proud to have served their country.
"Not everyone can serve," Theresa Williams explains. "Some don't have what it takes. I think serving shows courage and patriotism."
"There is a camaraderie between all who have served, no matter what they did," Deacon Williams notes.
He is thankful to serve Our Lady of the Assumption Church as a permanent deacon now.
"It gives me the chance to connect with people about spiritual things, which has become my favorite subject," he says.
"It gives me the opportunity to try to make a difference in people's lives, and I think it means I'm following what God wants me to do."
— SueAnn Howell, Senior reporter
Permanent deacons' military service
This Veterans Day, we thank in a special way our permanent deacons who served in the U.S. military and shared their service information with us. May God bless them and all those who served from the Diocese of Charlotte for their service to our country:
Deacon Ron Caplette, St. Aloysius Church, Hickory (retired): U.S. Marine Corps, Platoon Sergeant, 1952-1961
Deacon Bob Desautels, St. Leo the Great Church, Winston-Salem: U.S. Army, E4, 1967-1970
Deacon Patrick J. Devine, Charlotte Airport Ministry: U.S. Navy, Petty Officer (3rd class), 1966-1970
Deacon Ralph Eckoff, St. Margaret Mary Church, Swannanoa: U.S. Navy, Yeoman YN2, 1951-1954
Deacon Michael F. Goad, St. Gabriel Church, Charlotte: U.S. Air Force, Staff Sergent (E-5), aircraft mechanic, 1979-1983
Deacon Bill Griffin, St. Matthew Church, Charlotte: U.S. Army, Sergeant (E-6), 1964-1970
Deacon Carl Hubbell, St. William Church, Murphy (retired): U.S. Air Force, Technical Sergeant, 1953-1973
Deacon David King, Pennybyrn at Maryfield, High Point: U.S. Army, Vietnam War, 1968-1972; U.S. Army Reserves, 1979-1989
Deacon Mike Leahy, St. Elizabeth Church, Boone (retired): U.S. Army, 1958-1962
Deacon Paul Liotard, Holy Cross Church, Kernersville (retired): U.S. Marine Corps, Corporal, 1957-1959
Deacon Larry Lisk, St. Paul the Apostle Church, Greensboro: U.S. Marine Corps, Sergeant, 1967-1969
Deacon Scott McNabb: U.S. Navy, Officer, Vietnam War
Deacon Mark Mejias, Our Lady of Grace Church, Greensboro: U.S. Army under NATO, Corporal (E4), 1974-1976
Deacon Bob Morris, St. Pius X Church, Greensboro: U.S. Army, 1st Lieutenant, Vietnam War, 1967-1968
Deacon Robert Murphy, St. Mark Church, Huntersville: U.S. Air Force, Staff Sergeant (E5), 1959-1967
Deacon Mark Nash, Immaculate Conception Church, Hendersonville: U.S. Navy, HM3, Hospital Corpsman, 1978-1980
Deacon Tim Ritchey, Holy Cross Church, Kernersville: U.S. Air Force, Airman First Class, 1965-1969
Deacon Bill Schreiber, St. Aloysius Church, Hickory: U.S. Navy, Naval Flight Officer, 1979-2002
Deacon Vincent H. Shaw, St. Mary's Church, Greensboro: U.S. Army, Sergeant (E-5), 1957-1963
Deacon James H. Toner, Our Lady of Grace Church, Greensboro: U.S. Army, Captain, 1968-1972
Deacon Rafael J. Torres-Rivera, St. Luke Church, Mint Hill: U.S. Army, Specialist 4th Class, Vietnam War, 1965-1966
Deacon James P. Trombley, St. Mary Help of Christians Church, Shelby: U.S. Air Force, Master Sergeant, Vietnam War, Gulf War, 1970-1990
Deacon Richard Voegele, Immaculate Conception Church, Hendersonville (retired): U.S. Air Force, Airman First Class, 1959-1964; N.Y. Air National Guard, Sergeant, 1974-1975
Deacon Ben Wenning, St. Gabriel Church, Charlotte (retired): U.S. Navy, Petty Officer, Air Traffic Controller, 1955-1959
Deacon Kevin Williams, Our Lady of the Assumption Church, Charlotte: U.S. Navy, Musician 3rd Class, 1977-1981; Theresa Williams: U.S. Army, Specialist 4th Class, 1977-1980