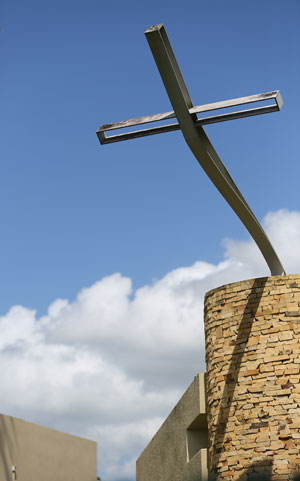 CHARLOTTE — Parishioners across western North Carolina responded generously to calls for donations in the wake of three powerful hurricanes that devastated large parts of Texas, Florida, Puerto Rico and the U.S. Virgin Islands last summer.
A total of $745,225 was raised through special collections held in the Diocese of Charlotte in response to these devastating natural disasters, as well as aid for victims of a magnitude 7.1 earthquake that rattled Mexico City Sept. 19, killing 370 people and injuring more than 6,000.
Hurricane Harvey wreaked havoc on Houston and southern Texas Aug. 25-30, killing 88 people and causing nearly $200 billion in damage. In a four-day period, many areas received more than 40 inches of rain. Flooding inundated hundreds of thousands of homes, displaced more than 30,000 people, and prompted more than 17,000 rescues.
Just days later, Hurricane Irma's 120-plus-mph winds pounded entire islands in the eastern Caribbean, brought unprecedented flooding on Cuba's north coast, devastated the Florida Keys, snapped construction cranes in downtown Miami and targeted cities along Florida's Gulf Coast. The storm killed more than 30 people in the Caribbean and 75 in the United States.
Two weeks later, Category-5 Hurricane Maria caused catastrophic damage to Puerto Rico and the U.S. Virgin Islands, killing at least 58 people and devastating the islands' electrical grids and water systems.
Hurricanes Irma and Maria have been the costliest Caribbean hurricanes on record, analysts reported to news media in late September.
Months later, communities impacted by all three hurricanes continue to dig out in the aftermath, and emergency aid continues to be needed to help them rebuild.
A collection held in early September for Hurricane Harvey relief yielded $345,626 from donors across the diocese.
A "super collection" taken up across the diocese Sept. 30-Oct. 1 to aid those impacted by Hurricanes Irma and Maria and the earthquake in Mexico yielded $399,599.
These donation totals do not include individual or parish donations given directly to aid organizations and other charities who responded to the disasters.
The Diocese of Charlotte is distributing the Hurricane Harvey donations as follows: $245,626 to the U.S. Conference of Catholic Bishops to go to the affected dioceses; $50,000 directly to the Diocese of Beaumont, Texas; and $50,000 to Catholic Charities of Southeast Texas.
Donations from the "super collection" are being distributed as follows: $239,599 to the U.S. Conference of Catholic Bishops to go to the affected dioceses; $25,000 to NPH International, which cares for orphaned and abandoned children in Latin America and the Caribbean; $100,000 to Catholic Relief Services for use in its Mexico relief efforts; and $35,000 to Catholic Charities Diocese of Charlotte to benefit disaster victims.
— SueAnn Howell, senior reporter. Catholic News Service and Wikipedia contributed.