Pastoral letter published 20 years ago still relevant today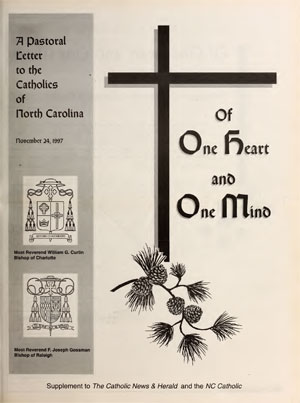 Twenty years ago, Charlotte Bishop William Curlin and Raleigh Bishop Joseph Gossman appealed to their flocks and to all North Carolinians "of good will to reach out to those in dire economic need."
In their pastoral letter "Of One Heart and One Mind," the two bishops discussed the disparity in economic opportunities across North Carolina and invited "Tar Heel Catholics and their neighbors in business, government and the community to ways of ensuring economic justice for ev­eryone."
The pastoral letter, published in the Catholic News Herald on Nov. 21, 1997, and in the Nov. 23, 1997, edition of Raleigh's N.C. Catholic, was the first joint pastoral letter by North Carolina's two Catholic bishops. It expressed urgent concern for the poverty and inequality among North Carolinians and called the local Church to swift and sincere action – action that continues to be needed today.
"... As followers of Jesus Christ our Lord, and as pastoral leaders of the Roman Catholic commu­nity in North Carolina, we feel compelled to express our grave con­cern for the children, women and men in our state who lack sufficient economic means to live full and fruitful lives," the bishops wrote.
"We are concerned because in the midst of a strong economy there are those among us looking for work who cannot find it; those who need and desire full-time jobs but are limited to part-time or temporary employment; and even among full-time workers a substantial number who fall below subsistence wages and are unable to provide for their family's basic necessities," they wrote. "The economic recovery of the last six years has generated a wider income and benefit gulf between the upper and lower ends of our work force. To the working poor, the impact of the expansion has been selective and discriminatory. These economic disparities lead to injustices demanding our attention. We must raise our voices and act to improve and change these conditions."
"We write to ask you, our sis­ters and brothers, to embrace with us our Church's responsibility to help shape our world so that the God-given dignity of every human being will be acknowledged, respected and protected."
Read:

"Of One Heart and One Mind"
"As Catholics, though we are relatively small in number in North Carolina, we have a responsibility to continue to use whatever influence we have to ensure that public policy decisions are more accountable to the common good of all North Carolinians, from the native born to the newly arrived," they wrote, urging individuals, businesses and organizations to advocate for policies to aid the working poor and all those who find themselves "falling through the cracks."
The bishops' pastoral letter prompted the Charlotte diocese to commission the Faith in Action Institute of Greensboro to conduct a study of the needs and assets of the far western region of North Carolina. To implement some of the findings from the study, in 1999 the diocese provided seed funding to establish a Catholic Charities presence in Murphy. Today Catholic Charities offers case management services to people and families in Cherokee, Clay, Graham and Swain counties – offering individualized help based on people's specific needs, with the aim of helping them move out of poverty.
At a more systemic level, Catholic Charities' Far West Growing Opportunities Grant Program assists the economic development activities of organizations committed to sustainable economic growth in the region. Since 2000 more than $327,000 in Catholic Charities Growing Opportunities Grants have been dispersed to organizations working in the region, including $16,000 distributed last fall to seven non-profit organizations and ministries combating food insecurity.
But Catholic Charities is eyeing further action as the needs of the population in the region change.
Nearly two decades after the Faith in Action Institute study, the Hinton Rural Life Center in Hayesville partnered with scholars from the University of North Carolina at Greensboro in 2016 to once again consider critical factors influencing local residents' quality of life. The results of this study, "Enhancing Quality of Life In Southern Appalachia: An Asset Based Community Development Planning Report," provide priorities and plans for community growth in the region.
The study found that low wages, the lack of good-paying jobs and limited transportation options are keeping people trapped in poverty, and food insecurity, limited access to health care, lack of affordable housing and an increase in substance abuse and mental health problems continue to depress the region. Catholic Charities is evaluating this latest study for ways it can sharpen its focus on helping people in this economically distressed area of the diocese.