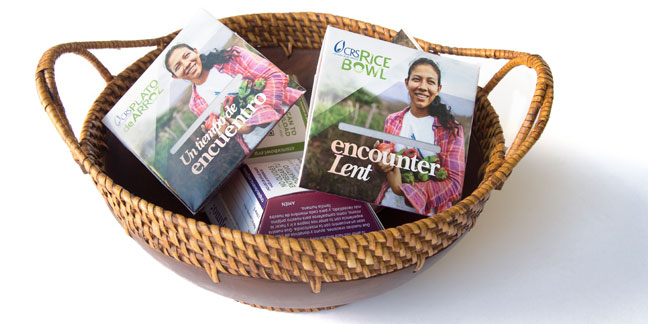 BALTIMORE — As Pope Francis asks us to "Share the Journey" with migrants and refugees aground the world, Catholic Relief Services' Rice Bowl offers Catholics in the United States a way to encounter Lent, to encounter the causes of migration and displacement, and to learn about the challenges faced by families around the world in their dioceses, parishes and homes.
CRS Rice Bowl, the agency's flagship Lenten program now in its fifth decade, will begin once again on Ash Wednesday – Feb. 14 – giving Catholics throughout the country an opportunity to encounter the stories of people in need around the world.
"From CRS' work in more than 100 countries, we know that people do not want to leave their homes, that they do so because they feel they have no other choice," said Joan Rosenhauer, executive vice president of Church Engagement. "Lenten sacrifices contributed through CRS Rice Bowl help give them that choice by providing sustenance and livelihoods in communities around the world."
Started as an ecumenical effort in the Diocese of Allentown, Pa., in 1975, CRS Rice Bowl soon spread across the country as it called on Catholics to perform a simple act of Lenten sacrifice: substitute a low-cost meatless meal for more expensive dining once a week during Lent and put the money saved in a cardboard rice bowl.
That concept remains at the heart of the program even as it has expanded to include broader Lenten faith enrichment through a wide variety of resources available for the millions of Catholics who participate. These include prayer resources, a daily Lenten calendar, weekly stories of hope that introduce families from around the world and recipes from various countries for meatless meals that can be enjoyed on Fridays during Lent.
Funds collected in the rice bowls, which are turned in at the end of Lent, are distributed both around the world and in local communities to combat hunger – 75 percent of every donation goes to CRS programming in targeted countries worldwide while 25 percent remains in the local diocese from which the donation came, supporting initiatives that help alleviate poverty.
But the goal is to go beyond collecting money and spur discussions – both in churches and around family dinner tables – about the meaning of Lent and the daily reality that people living in poverty face.
"We see CRS Rice Bowl as much more than a fund-raising opportunity," said Rosenhauer. "It is an opportunity for Catholics in America to encounter what Lent means, what poverty means, what resilience means, what hope means.
"We want families to participate together so they can experience the joyous feeling of solidarity that comes from generosity and sacrifice. We know from years of experience that CRS Rice Bowl can be life-changing."
As part of CRS Rice Bowl, speakers from around the world will travel throughout the United States telling their stories of how CRS Rice Bowl-supported programs are changing lives. For Thomas Awiapo, a feeding program in his village in Ghana funded by CRS Rice Bowl brought him as a hungry young orphan to school for food. He stayed for an education, eventually a master's degree in the United States, returning to Ghana for a career with CRS there. Cassandra Bassainthe, who left Haiti as a young child, will talk about why she returned to her home country to help the poor and vulnerable. Micter Chaola of Malawi and Jacques Kabore of Burkina Faso will share their experiences working in agriculture in their respective countries.
"CRS Rice Bowl does far more than feed people," said Rosenhauer. "It also helps develop agriculture so that families and communities can support themselves. As we heed the request of Pope Francis and 'Share the Journey,' we know that the best way you can help a migrant is to make sure that she doesn't have to leave home in the first place. That's what CRS Rice Bowl can help accomplish."
Resources available online

Catholic Relief Services has a lot of resources for you and your family this Lenten season. Besides the traditional CRS Rice Bowl kit that you can download online, there is a free mobile app, daily Lenten reflections, "Stories of Hope" from people who have been aided by CRS, a video series exploring the meaning of Lent, and meatless recipes from the countries featured each Lent. All materials are available in English and Spanish.
How to give
If your parish or school participates in the CRS Rice Bowl campaign, giving guidelines are provided. You can also give directly to CRS Rice Bowl securely online at www.crsricebowl.org; by phone at 1-877-435-7277; or mail to CRS Rice Bowl, P.O. Box 17090, Baltimore, MD 21297-0303.
Some recipes
Haitian Vegetable Stew
Seasoning:
4 scallions, chopped
6 sprigs parsley
4 sprigs fresh thyme, stems removed
3 garlic cloves, minced
1 jalapeno pepper, seeded and chopped
1 tsp. salt
Vegetable Stew:
1 tbsp. fair trade olive oil
1 small onion, chopped
2 carrots, sliced
1 chayote squash, peeled and chopped (If you can't find chayote squash, replace with equal amounts of any summer squash, such as zucchini.)
1 small eggplant, peeled and chopped
3 cups cabbage, chopped
1 15-oz. can of coconut milk
4 cups water or vegetable broth (or more, as needed)
1 large tomato, chopped
Salt to taste
For the seasoning, mix first 6 ingredients in a food processor and set aside. Sauté onions, carrots, squash, eggplant and cabbage in oil in large pan for 3 to 4 minutes. Add coconut milk and 3 cups broth.
Bring to a boil, reduce heat and simmer 10 minutes, or until soft. Add tomatoes and continue to simmer. Add more broth if the mixture appears too dry. Add seasoning to simmering vegetables and cook one minute. Mash vegetables with a large fork. Season with salt, to taste. Makes 6 servings.
Editor's note: Find more meatless recipes and the stories behind their cultures online at www.crsricebowl.org.