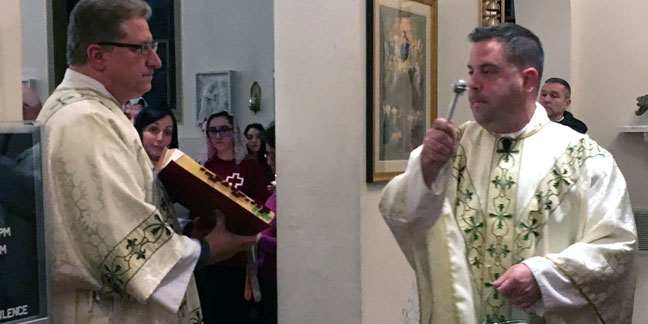 CHARLOTTE — Faithful around the Diocese of Charlotte celebrated the Feast of the Purification with Masses on Feb. 2, commemorating the purification of the Blessed Mother.
Although not required due to her sinless nature, the ceremony, required under Mosaic law, prescribed a woman wait 40 days after childbirth before returning to the Temple.
The feast day is also known as the Feast of Candles or Candlemas, which celebrates the words of the Temple priest Simeon, who in the Gospel of Luke, prophesized that Christ is a light of revelation for the Gentiles and the glory of the people of Israel.
The Church traditionally commemorates Simeon's words with the blessing of candles on this day. Father Brian Becker, parochial vicar at St. Mark Parish in Huntersville, continued this tradition with a traditional Latin blessing of candles after the 12:30 p.m. Latin Mass.
That same evening, at St. Patrick Cathedral in Charlotte, Father Christopher Bond, parochial vicar at St. Matthew Parish in Charlotte, and assisted by St. Matthew Deacon Gary Schreiber, blessed candles before the 8 p.m. First Friday Mass which attracted more than 60 faithful.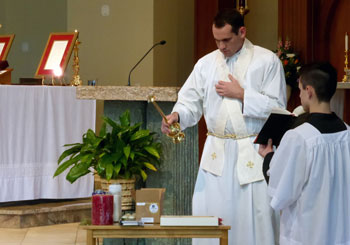 The Mass, which began with a candlelight procession, was part of the Vigil of the Two Hearts monthly devotion organized by C-PLAN (Catholic Pro-Life Action Network of Charlotte) to offer penance for the sins of abortion, strengthening of families and praying for the conversion of the nation.
For more information about the Vigil of the Two Hearts visit www.prolifecharlotte.org/two-hearts or email This email address is being protected from spambots. You need JavaScript enabled to view it..
— Mike FitzGerald, correspondent
CANDLEMAS IN MOCKSVILLE
MOCKSVILLE — Parishioners from St Francis of Assisi Church in Mocksville gathered for the Blessing of Candles, Procession and Mass by candlelight on Candlemas Day Feb. 2.
Holy Mass was offered by the pastor, Father Eric Kowalski.
After Mass, parishioners continued the festivities with food and fellowship in the parish hall.
— Photos provided by St. Francis of Assisi parish