'Spiritual union is the most precious possession that a consecrated person has'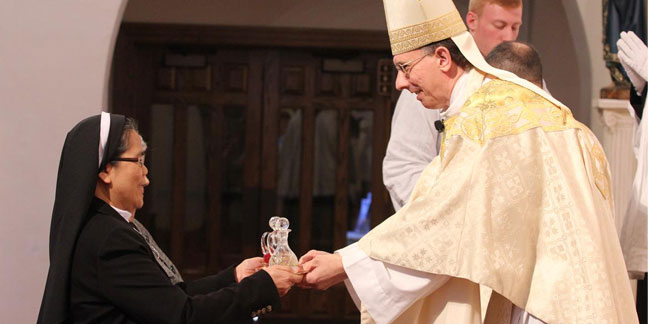 CHARLOTTE — At the annual Mass for the World Day for Consecrated Life, celebrated Feb. 3 at St. Patrick Cathedral, five women and men religious were honored for their decades of service to the Church.
Religious brothers celebrating special jubilee anniversaries this year include: Benedictine Father Francis Forster (60 years) and Benedictine Father David Kessinger of Belmont Abbey (60 years). Religious sisters celebrating special jubilee anniversaries include: Mercy Sister Ellen McSorley (70 years); Mercy Sister Brigid McCarthy (50 years); and Mercy Sister Paulette Williams (50 years).
Bishop Peter Jugis drew inspiration for his homily from the readings selected for the Mass and the words Pope Francis shared with consecrated religious on his recent visit to Peru.
"Jesus says 'Remain in me as I remain in you (John 15:1-8).' "Beautiful words which He spoke during the Last Supper, with the theme of the vine and the branches. We must always remain in the Lord, as He is always remaining in us," Bishop Jugis said.
"He is speaking about our spiritual union with Jesus, which we know is so vital to and is so critical to the vocation to the consecrated life."
Bishop Jugis shared that when Pope Francis traveled to Peru last month, he met with hundreds of men and women religious and spoke to them about this spiritual union with Jesus.
"He talked about this theme in his discourse, of spiritual union with Jesus, and called our spiritual union with Him 'the most precious possession of a consecrated person.' Beautiful words, beautiful description that he gave! Our spiritual union is the most precious possession that a consecrated person has."
That "most precious possession," he continued, recalls the parable Jesus told of the pearl of great price.
He also noted that Pope Francis asked religious to take time periodically to recall those days when they were first discerning their vocation, when they began to realize that the Lord was calling them.
"When we experienced that gaze of Jesus in a very special, unique, very personal encounter with the Lord, where He came to meet us and encounter us…when He let us know He was expecting something different, something more of us."
Bishop Jugis said that this time in a religious person's life is similar to when the disciples were being called, as they too "experienced the gaze of God, penetrating into their heart…as He knew them and loved them."
"Each one of us in consecrated life has had a similar experience – where the Lord came and decided to encounter each one of us personally, in a unique way, in a unique situation, and He let us know He was expecting more of us."
The joy of following Christ also marks the life of a consecrated person, Bishop Jugis noted from the pope's talk in Peru.
"Joy fills the hearts and lives of all those who encounter Jesus. He (Pope Francis) said in our daily encounter that we have with the Lord Jesus, (we find) that joy that we first experienced in knowing that He had come especially to us and chosen us for a special purpose in His Church and in the world. That joy is constantly being renewed by our daily encounter with Jesus, by our remaining in Jesus as He is remaining in us."
Bishop Jugis thanked all of the religious gathered at Mass and those from the Diocese of Charlotte serving in religious orders throughout the world.
"We pray that by your presence here in the midst of our local Church in the Diocese of Charlotte that all of us in the local Church, inspired by your example, by your witness of holiness, may be inspired to a closer following of Jesus ourselves," he said.
"It really is a wonderful daily spiritual adventure each one of us is on – an adventure of grace, an adventure of walking with the Lord on a daily basis, as we renew our relationship with Him and grow in our love for Him and grow in holiness."
At the conclusion of Mass, he joined members of more than seven religious communities from across western North Carolina in the Family Life Center at St. Patrick Cathedral for a luncheon in their honor.
— SueAnn Howell, senior reporter