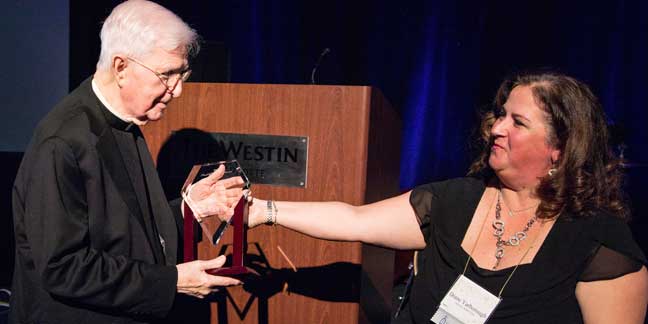 CHARLOTTE — Bishop Emeritus William G. Curlin, the third bishop of the Diocese of Charlotte, was honored by Catholic Charities Diocese of Charlotte with the Fruit of the Vine Award Nov. 18 at the 14th Annual Vineyard of Hope fund-raising banquet.
Bishop Curlin's work serving the poor stretches back decades to when he was assigned as a pastor to an impoverished parish in Washington, D.C. He also collaborated with his friend, St. Teresa of Calcutta, over the course of 30 years before her death in 1997.
The Fruit of the Vine Award was presented to Bishop Curlin by Diane Yarborough, Catholic Charities' advisory board chairwoman, in acknowledgement of his unswerving commitment to the poor. In particular, he was recognized for his efforts in establishing a burial assistance program for the poor in the city of Charlotte. Working with city officials, he created a first-of-its-kind program in Mecklenburg County.
Last year, 113 families were assisted in burying their loved ones thanks to the burial assistance program.
"Imagine that, someone dying who is poor, and there is no one there to bury them. To me, that was tragic," Bishop Curlin said in a video interview created especially for the Vineyard of Hope event.
The presentation video featured the Transition Out of Poverty program, established this year in the Charlotte office. Influenced by Pope Francis's Jubilee Year of Mercy message, the program was established to transform lives through case management assistance, offering support in the areas of education, finance management, health care and employment. More than 40 clients are currently being served by the Transition Out of Poverty program.
The video also featured several Transition Out of Poverty client situations where a serious health issue caused complete disarray, leaving a person without hope or direction. Catholic Charities works to be an agency where people can turn for hope, guidance and a chance a rebuild their lives.
"Our hopes are to lower poverty in the community and transform the lives of those impacted by generational poverty," Yarborough said. "Of the 100 largest cities in the country, Charlotte ranks one of the lowest in terms of people successfully breaking the cycle of poverty."
The 14th Annual Vineyard of Hope hosted more than 200 attendees to help raise $150,000 for Catholic Charities programs in Charlotte.
— SueAnn Howell, Senior reporter. Catholic Charities Diocese of Charlotte contributed.