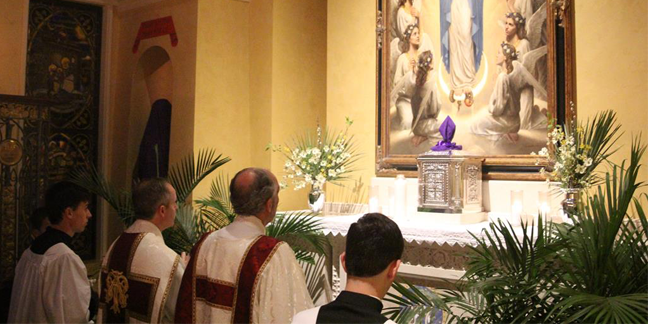 CHARLOTTE — The Seven Churches Visitation, a Lenten tradition to visit seven churches on Holy Thursday, gives Catholics the opportunity to recall the seven stops of Jesus Christ along the Via Dolorosa. Consider trying some or all of this pilgrimage yourself.
Also known as "Visita Iglesia," the visitation to seven churches on the evening of Holy Thursday dates back to the 16th century, originating in Rome with St. Philip Neri. The pilgrimage encompasses the seven Roman basilicas: St. John Lateran, St. Peter's, St. Mary Major, St. Paul-Outside-the-Walls, St. Sebastian, Santa Croce-in-Jerusalem and St. Lawrence-Outside-the-Walls.
Following the Mass of the Lord's Supper on Thursday evening, the Blessed Sacrament is reserved on an Altar of Repose for Adoration. During the pilgrimage, the faithful visit several churches – sometimes seven, or whatever number is possible – to pray before the Blessed Sacrament in each church, remembering Our Lord's words to His disciples in the Garden of Gethsemane to keep watch with Him for one hour.
In the Diocese of Charlotte, a growing number of priests, seminarians and lay people set out to follow the path of Rome's seven stational churches by making a similar pilgrimage to seven churches in Charlotte. St. Patrick Cathedral, the seat of the diocese, and St. Peter Church, the oldest church in Charlotte, are popular stops along the pilgrimage.
Of the 13 churches within the city limits of Charlotte, the following will have the Blessed Sacrament in repose for Adoration:
• Our Lady of the Assumption, 4207 Shamrock Dr.: 8 p.m. to midnight
•Our Lady of Consolation, 2301 Statesville Ave.: 9 to 11 p.m.
• Our Lady of Guadalupe, 6212 Tuckaseegee Road: 8 p.m. to midnight in the church
• St. Ann, 3635 Park Road: After 7 p.m. Mass to midnight
• St. Gabriel, 3016 Providence Road: After 7 p.m. Mass to midnight
• St. John Neumann, 8451 Idlewild Road: After 7 p.m. Mass to midnight
• St. Matthew, 8015 Ballantyne Commons Pkwy.: After 7 p.m. Mass to 11:30 p.m. in the Parish Center Gym
• St. Patrick Cathedral, 1621 Dilworth Road East: 8 p.m. to midnight in the Family Life Center
• St. Peter, 507 S. Tryon St.: After 7 p.m. Mass to 9 p.m.
• St. Vincent de Paul, 6828 Old Reid Road: 8 to 11:30 p.m. in the Chapel of the Holy Family
At www.charlottediocese.org: See a complete list and directions to all of our parishes.