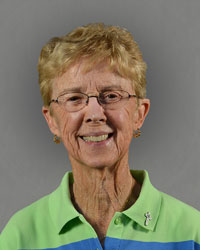 SAINT MARY-OF-THE-WOODS, Ind. — One Sister of Providence of Saint Mary-of-the-Woods, Ind., with ties to the Diocese of Charlotte is celebrating her 60th jubilee anniversary this year.
Sister Sharon Richards is a native of Owosso, Mich. Currently, she ministers as a volunteer at St. Alexander School in Palos Heights, Ill.
Sister Sharon, formerly Sister Charlene, entered the Sisters of Providence on Feb. 2, 1957, from Our Lady Queen of Martyrs in Fort Lauderdale, Fla.
She graduated from Saint Mary-of-the-Woods College with a bachelor's degree in education. She also earned a master's degree in education from Marygrove College in Detroit, Mich.
In the Charlotte diocese, her ministries included teaching at St. Ann School in Charlotte from 1972 to 1973, and at St. Joan of Arc School in Candler from 1973 to 1974.
Sister Sharon has also ministered in Illinois and Maryland.
The Sisters of Providence, a Congregation of nearly 300 women religious, with more than 200 Providence Associates, collaborate with others to create a more just and hope-filled world through prayer, education, service and advocacy. The Sisters of Providence have their motherhouse at Saint Mary-of-the-Woods, located just northwest of downtown Terre Haute, Ind. St. Mother Theodore Guerin founded the Sisters of Providence at Saint Mary-of-the-Woods in 1840. Today, Sisters of Providence minister in 17 states, the District of Columbia and Asia, through works of love, mercy and justice.