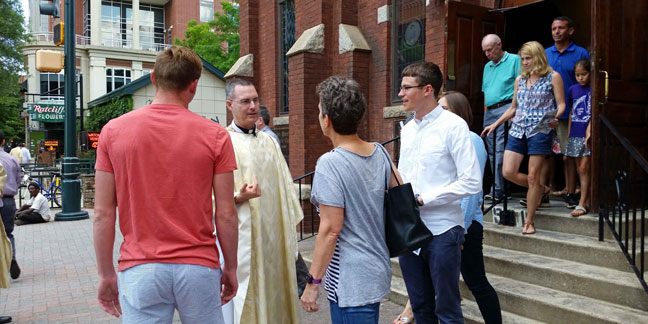 CHARLOTTE — About 50 parishioners of St. Peter Church attended a recent discussion on immigration led by Jesuit Father Sean Carroll, executive director of the KINO Border Initiative in Nogales, Ariz. Father Carroll, visiting Charlotte's Jesuit-staffed parish in June, updated people about the work of KBI as well as the impact of U.S. immigration, detention and deportation policies on the U.S.-Mexican border.
St. Peter parishioners have been supporting the KBI initiative for a while, with a delegation even going on an "immersion visit" to the Nogales area last summer to get an up-close view of the impact of U.S. border policies. The parish has also formed teams to accompany and mentor migrants and refugees in the Charlotte area.
Father Carroll described the Nogales area, where KBI's Mexico and U.S. facilities lie only five miles apart from each other, as a place that contains tragedies of lost hope, triumphs of gained freedom, the darkness of inhumane abuses and the light of "a helping hand." KBI serves as a refuge for immigrants who find themselves on either side of the border.
"Our goal is to make a path leading to light. We do not condone building a wall, but a bridge," he said, echoing the words of Pope Francis.
"People flee the home countries due to economic need, family separation, violence, disaster and war. The ultimate goal is to create no need for migrants to flee. (There needs to be) a humane and reasonable path to citizenship so people do not dwell in the shadows and feel vulnerable. Targeted economic development with a viable way of life and peace (is the long-term goal)," he explained.
"A lot of migrants flee due to violence," he continued. "For example, Nya and her 8-year-old grandson Kevin were accused by gang members in Honduras for telling on them to the police. Nya came home to find her house being burned down by gang members. She held her grandson's hand tight and knew that it was time to get out. Their escape was difficult because they had to take the cargo train 'La Bestia' from Central America through Mexico. With the help of the Missionary Sisters of the Eucharist, it was amazing to see the transformation in Nya after only a couple of weeks. She became brighter and more confident. Eventually, Nya and Kevin were able to make arrangements to reunite with Kevin's mother in Dallas, Texas."
According to Ivette Fuentes, director of development and outreach for KBI, women and children are helped by providing them refuge in one of the six apartments the mission operates in Mexico. These women and children are in the process of asylum or in a transitional process. They are given meals and housing, and they make necklaces and bracelets to sell so they can find a bit of financial independence. However, these women and children do not represent the majority of the mission. The majority is mostly men who are deported back to Mexico from federal detention centers.
Father Carroll noted, "Right now we have six apartments we are using in Mexico. One is a shelter for women and children, one is where we serve meals, an advocacy office, donations area, group activities, and a place to host visitors. Our facilities are small and we are in process of buying a building for around $800,000 to $1,000,000. This building will help house 50 to 60 women and children instead of eight."
Carroll described the average day at the KBI center in Nogales: "In the morning people lineup, around 40 (it used to be 80). They are greeted and seated and we pray with them. We create a home feel because a lot of these people come in feeling humiliated, like they don't matter. They are then given a meal. They are able to make phone calls to loved ones. They are able to cash checks. A lot of them are given first aid due to injuries endured. They come in weak and dehydrated. Abuses are documented and recorded. The Mexican consulate comes to help with bus fare for Mexican citizens to return to their town of origin in Mexico. They are given clothes and dinner and leave (uplifted) in a humane manner."
During his presentation, Father Carroll stressed the importance of dialogue in the immigration debate.
"Dialogue opens a path to consensus, which creates deeper solidarity. Deeper solidarity leads people to become more committed and finally change. Only then are solutions pursued. But the most important thing is to get the conversation going. Dialogue between party lines is crucial, especially at this time," he said.
He also encouraged parishioners to write to their federal representatives, advocate on behalf of asylum-seekers, and pray. People may also donate items to help those KBI assists, especially shoelaces, men's sneakers, men's pants, women's clothes, backpacks, Neosporin and travel-sized toiletries. To conduct a "Kino drive," contact Ivette Fuentes at 520-287-2370. Packages can be UPS delivered to P.O. Box 159, Nogales, AZ 85628-0159.
— Lisa Geraci, Correspondent