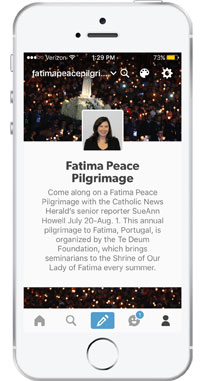 Come along on a Fatima Peace Pilgrimage with the Catholic News Herald's senior reporter SueAnn Howell July 20-Aug. 1. This annual pilgrimage to Fatima, Portugal, is organized by the Te Deum Foundation, which brings seminarians to the Shrine of Our Lady of Fatima every summer so the men can develop or deepen their devotion to Mary as part of their preparation for the priesthood.
This year's pilgrimage promises to be special, as it marks the 100th anniversary of the apparitions of Our Lady at Fatima. Pilgrims and clergy
from the Diocese of Charlotte, as well as others, will be making the
journey.
Pope Francis recently canonized Sts. Francisco and Jacinta Marto, two of the shepherd children of Fatima. Pilgrims will tour their home and visit their parish church and have an opportunity to venerate these young
saints. A stop at the Carmelite convent where the late Sister Lucia, the oldest of the visionaries, lived as a cloistered nun is also planned.
Come with us as we grow closer to the saints of Fatima and Our Lady, Queen of Peace, on this 13-day pilgrimage during the centennial anniversary of Fatima and this Marian Year in the Diocese of Charlotte.
Follow SueAnn's blog at: www.fatimapeacepilgrimage.tumblr.com