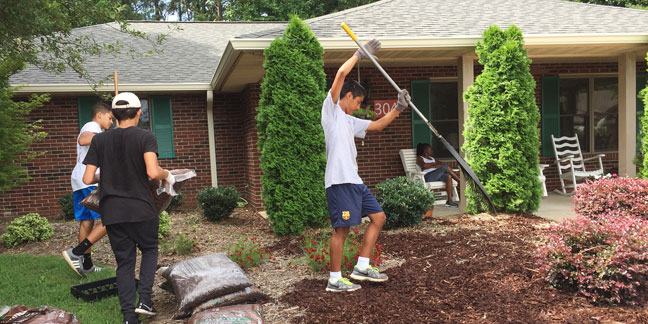 BELMONT — On July 3 seven young people with Catholic Heart Work Camp arrived at House of Mercy, a ministry of the Sisters of Mercy providing a home and compassionate care for low-income persons living with AIDS.
The Heart Work Campers are one of 52 Catholic work camps held in the U.S. and Jamaica this summer with more than 350 high school students at each camp.
Campers from Florida, Illinois, Wisconsin and North Carolina worked and played hard at House of Mercy. The teens washed all the windows and doors at the residence, trimmed trees and bushes, pulled weeds, spread 55 bags of mulch on natural areas, generally spruced up the grounds and enjoyed playing card games with residents.
House of Mercy acknowledges with gratitude the community support including delicious meals provided by Faith Victory Ministry and Mt. Pisgah Baptist Church, Roger Fenlon, Mama's Family, and Queen of the Apostles Church in Belmont. Papa John's of Belmont donated pizzas, Mary Kelly donated a wheelchair, South Charlotte Mercy Associates collected pantry items.
Students at Belmont Abbey College contributed an offering from a recent Mass.
— Photos provided by Marjorie Storch