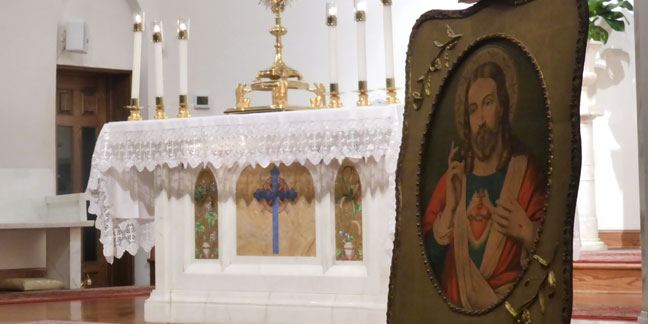 CHARLOTTE — More than 50 people from multiple parishes in the Charlotte area attended the inaugural Vigil of the Two Hearts devotion at St. Patrick Cathedral Sept. 1.
The vigil, organized by the Catholic Pro-life Action Network of Charlotte (C-PLAN), honors the hearts of Jesus and Mary by offering First Friday and First Saturday Masses united by nocturnal Eucharistic Adoration.
The vigil invites Catholic families to come together in prayer each month for the strengthening of their families, offering penance for their sins, and praying for the country's conversion. The event seeks to honor the Sacred Heart devotion and Our Lady of Fatima's request for prayer and penance for conversion of sinners and peace in the world.
The evening began with Mass, offered by Father Peter Ascik of St. Thomas Aquinas Church in Charlotte, who preached about the need to accept Christ's healing love first before healing the wounds of families and the nation.
After Mass, Father Ascik offered prayers to spiritually fortify families while Deacon Carlos Medina of St. Patrick Cathedral led a Holy Hour of Reparation before midnight.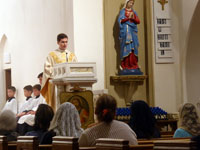 Throughout the night, individuals and families came to the cathedral for nocturnal Eucharistic Adoration.
The event concluded with morning First Saturday Mass Sept. 2.
The Vigil of the Two Hearts will be held again at the cathedral Oct. 6-7, and may be held monthly if participation remains consistent.
For more information or to sign up for a Holy Hour during the period of nocturnal Adoration, go online to www.prolifecharlotte.org/two-hearts
— Mike FitzGerald, correspondent