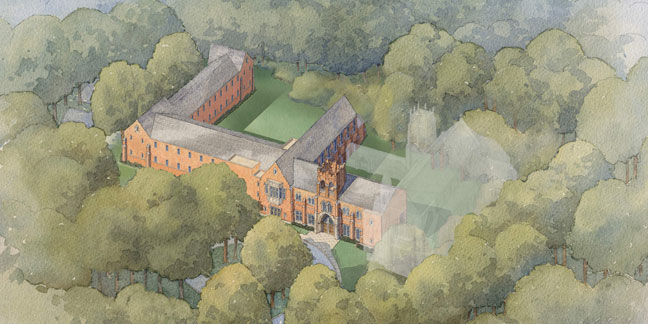 CHARLOTTE — The Diocese of Charlotte has purchased land in Mount Holly for the permanent location of St. Joseph College Seminary.
The diocese closed on the $1.4 million purchase of the 86-acre site, located approximately two miles from Belmont Abbey College, on Sept. 11.
St. Joseph College Seminary was founded in 2016 for undergraduate men discerning a possible religious vocation, before considering the step of enrolling in a major seminary for specific formation to the priesthood. Students work toward a bachelor's degree in philosophy at Belmont Abbey College while experiencing a Benedictine-style communal life on their path of discernment.
Only in its second year, the college seminary's enrollment is 16 men. Students are being temporarily housed in two separate residences adjacent to the campus of St. Ann Church in Charlotte – the former Poor Clares convent behind St. Ann School and a house on Hillside Avenue. Neither building has room for more students.
The unexpected growth in enrollment is "a fantastic problem," said Father Matthew Kauth, rector.
"We never expected to grow this fast," he said. "The Lord has blessed us and He continues to do so."
"Last year we began (the college seminary) with a full house, and knowing the men were returning and more were entering, we purchased the house on Hillside Avenue," he continued. "This year we had nine spaces available and we had nine men apply. We're at the same crossroads for next year: two men are graduating, but we already have four or five men who want to apply."
Construction plans call for the college seminary to be developed in two phases, but even those plans are being modified as diocesan officials strive to accommodate the unexpectedly high enrollment.
Originally, the plan was to house up to 20 students in a 17,000-square-foot building, and future expansion plans to double that to 40 students. Because enrollment is already nearing 20 men, diocesan planners have accelerated those plans, now moving forward with a 27,000-square-foot building that can house up to 40 men at the start.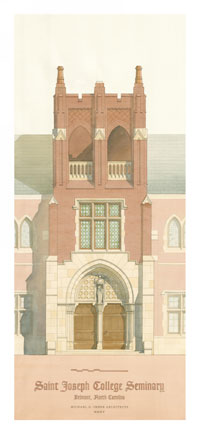 Besides 40 dormitory-style rooms, the main building will include academic spaces, administrative offices, four faculty offices, a guest suite, a gathering space and refectory, chapel and study space. The projected cost to complete phase one is approximately $15 million.
The second phase of the project would be to construct the seminary's permanent chapel.
"We've conceptually designed this beautiful chapel for St. Joseph's Collage Seminary, but the construction of this crowning jewel will need to completed during the second phase of our development," said Anthony Morlando, director of Diocesan Properties. "During phase one of the project, the temporary chapel will be located in the refectory, which is a beautiful space washed in natural light, and quite fitting for use as a temporary chapel."
The diocese is partnering with architectural firm Michael G. Imber Architects of San Antonio, Texas, and Creech & Associates PLLC of Charlotte to design the American Gothic style building. They hope to finish revising the plans over the next several months, but construction cannot begin in earnest until fundraising efforts are complete.
Fundraising has brought in $4.5 million so far, Father Kauth said, but the original project cost estimate of $7.5 million has risen to $15 million because the plans were enlarged to accommodate twice as many men, the original plans did not anticipate the need to purchase land, and because of price increases in the construction market.
Father Kauth said he is continuing his fundraising efforts outside the diocese this year, and he hopes to begin concentrated fundraising work in the diocese in the fall of 2018.
The need for a college seminary in the diocese to nurture priestly vocations is clearer than ever, Father Kauth noted.
"We thought that there was a need, that there was a desire, but you never know if it's going to come to fruition. Since it has produced a yield 10-, 20- and 100-fold, now we have to step out in faith again and say, 'We don't have five years to live in an old convent. We have got to build now to house these men and not send them away for someone else to form them,'" he said.
"They are coming because they want to be formed here. They want to be among their parishes, their priests, their people. It's really spurring on their vocations. It's been do-ing exactly what we had hoped. I just didn't think it would yield such a huge crop!"
— SueAnn Howell, Senior reporter