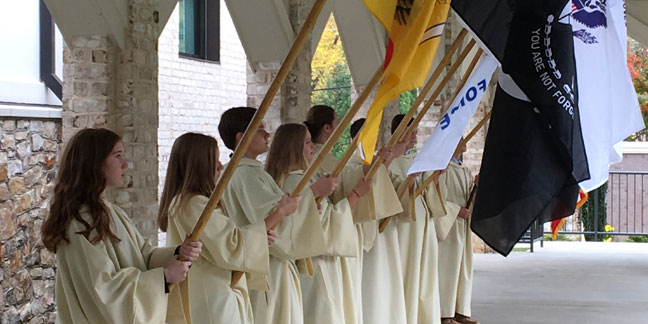 GREENSBORO — When Joe Adamczyk decided to attend West Point after high school, he planned to get his education, do his time in the Army, then get out and return home to New Jersey.
He did his time, indeed, and then some. Plans changed, and he retired as a colonel after almost 30 years on active duty.
"At each milestone (of years served), there was a decision point, and the most important thing was that I enjoyed what I was doing, and my wife and children enjoyed it, so we had a lot of great opportunities over the years to serve," Adamczyk said.
Throughout his career, laden with impressive accomplishments – earning a master's degree, achieving designations of ranger and master parachutist, and becoming a battalion commander, inspector general and chief of staff, to name a few – his faith remained central. Even his dog tags feature a medal of St. Michael the Archangel.
"There are some trying times, both personally and professionally, and you find solace, you find strength, you find wisdom in your faith," Adamczyk said. "I've done a few jumps out of airplanes; I've probably said more Hail Marys going out of an airplane than anybody around, and it always worked for me, I'm thankful to say."
Pictured above: St. Pius X School students display the six military flags in St. Pius X Church's outdoor cloister following the Veterans Day Tribute Mass Nov. 6. Veterans passed the flags as they walked from the church to the parish center for the reception.
Now a parishioner at St. Pius X Church in Greensboro, Adamczyk was the featured speaker at St. Pius X's Veterans Day Tribute Mass, celebrated Nov. 6. About 75 veterans were honored, representing all branches of the military and every conflict from World War II forward.
During his keynote speech, Adamczyk drew parallels between military members and all people of faith. He noted that St. Pius X Church's mission statement calls for its members to know, love and serve the Lord and others. Similarly, servicemen and women fulfill their duties by knowing, loving and serving their fellow soldiers and their country.
"To know, love and serve – all our veterans have understood that," he said.
Adamczyk also explained that "veteran" doesn't always just refer to a man or woman who has served in the military; it also describes someone with experience in a special skill.
To illustrate this, he asked the veterans in the congregation to raise their hands. Those who had served in the military – the conventional use of the word "veteran" – did so.
"I would contend that this whole church is full of veterans," Adamczyk said, because everyone gathered is experienced in the mission of the Church to know, love and serve.
"You are veterans. You are veterans in the army of Christ," he said.
Besides Adamczyk's reflection, the Mass incorporated rituals throughout to honor the gathered servicemen and women. Each veteran was given a boutonnière to recognize his or her status. After the presentation of the colors and the Pledge of Allegiance, altar servers led the procession with six military flags: one for each of the four branches of the armed services, one for the armed forces reserves and one for prisoners of war and those missing in action, as well as the American and papal flags.
Other special tributes included a missing man's ceremony and the recognition of veterans by military branch. St. Pius X School students served as readers, the choir, ushers and altar servers. Many students sat with their veteran relatives, and several more students have close relatives serving overseas right now.
The Tribute Mass is often an emotional celebration for all involved, pastor Monsignor Anthony Marcaccio told the congregation. Teary eyes reached their pinnacle when retired Maj. Jay Callahan played "Taps" on the bugle, the lone figure standing by an empty table set in remembrance of those missing in action.
A reception for the veterans followed the Mass.
"It means so much to them to come back and socialize – that's kind of the fun part," said Therese Chase, chair of the Veterans Day of Remembrance committee. "They come here and sit and talk with old veteran friends and new ones they've met from the same branch of service."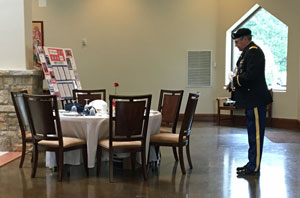 Pictured: Retired Maj. Jay Callahan bows his head after playing "Taps" on the bugle during St. Pius X's Veterans Day Tribute Mass. He performed the solemn song while standing alone at the empty table set to honor military members who have gone missing in action.The Veterans Day Tribute Mass at St. Pius X is a tradition dating back about 10 years, Chase said. A retired military parishioner brought the idea to the parish staff, and ever since, the parish's Spirituality Committee has collaborated with the school to make it happen.
While its main goal is to celebrate the parish's veterans, it's also an important event for students, Assistant Principal Chris Kloesz said.
"It's so critical that our young people are given the opportunity to meet the veterans that are able to come out today to express their gratitude," Kloesz said. "Out in public, children are sometimes less apt to approach a veteran, but in an atmosphere like this, where we are honoring the veterans, it's a great opportunity for the school-aged kids to come out and say thank you and be in the midst of what I consider to be real-life legends and heroes."
Kloesz, a U.S. Coast Guard veteran, also is able to share with his students first-hand experience of how faith informs military service.
"As veterans, as military service members, we know that God plays such a huge role in providing us protection, provid-ing us the grace and strength to overcome odds and to do what our service members do to protect our nation," he said.
"We're protected by God; therefore, we can protect our nation."
— Laura Kosta, Correspondent