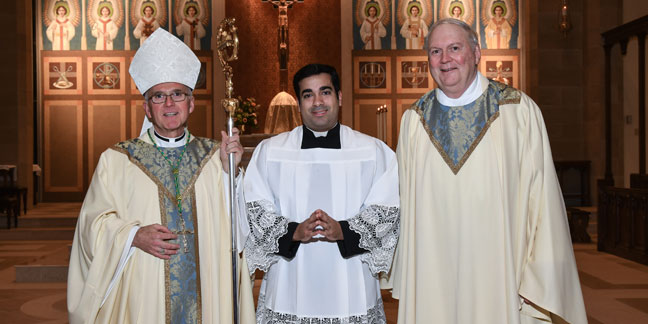 COLUMBUS, Ohio — Jonathan Torres, a seminarian of the Diocese of Charlotte, was among the 18 students of the Pontifical College Josephinum who were installed as lectors or acolytes Nov. 1, the Solemnity of All Saints.
Bishop Terry LaValley of Ogdensburg, N.Y., was the principal celebrant of the Mass celebrated in St. Turibius Chapel.
Seminarians installed as lectors typically are first-year theologians and are commissioned to proclaim the Word of God in the liturgical assembly and to catechize the faithful.
Acolytes, traditionally second-year theologians, are entrusted with the duties of attending to the altar, assisting the deacon and priest at Mass, and distributing Holy Communion as an extraordinary minister.
Torres and Bishop LaValley are pictured with Monsignor Christopher Schreck, rector and president of the Pontifical College Josephinum.
— Photo provided by Carrie Burson and Ken Snow