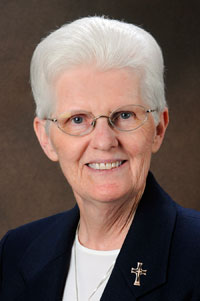 BELMONT — As she retires from active ministry, Mercy Sister Carmelita Hagan leaves an enduring legacy at Catherine's House after 15 years of dedicated service to women and children who are homeless.
Her story begins in Ireland, where she was born and raised by a "large, devoted Catholic family." She entered religious life as a Sister of Mercy in Belmont at age 21, and taught or served as school principal in Wilmington, Asheville and Charlotte, and in New Smyrna Beach, Fla. She also served as a parish administrator and provider of pastoral care among other "callings."
She came to Catherine's House in 2002 at the invitation of then CEO and President Sister Bernadette McNamara. Sister Carmelita wanted to re-engage with the local community after two years of taking care of her mother in Ireland, so she accepted the position of house manager at Catherine's House, a transitional home and program for women and children who are homeless.
"I didn't have a clue as to what I was getting into, but the position grew into diverse roles over time," she recalls.
Soon Sister Carmelita was hooked. "I loved knowing that I could be a part of giving the residents a second chance."
For many, Sister Carmelita is the face of Catherine's House serving as house manager, volunteer coordinator, and a caring mentor to more than 1,200 women and children. She is best known for empowering the residents of Catherine's House with her merciful heart and honest, direct communication style.
Stan Patterson, who worked closely with her for seven years as president/CEO, said, "For many residents she represented a loving parent they never had or someone from the faith community who could see their value even when they could not. Her love for them was apparent."
Residents of Catherine's House describe Sister Carmelita as "unique, irreplaceable, and a gift in their lives."
Sister Carmelita has big dreams for the future of Catherine's House, "I wish we could offer even better accommodations to more people including apartments for families."
Although retired from her daily office role at Catherine's House, she will continue as the volunteer coordinator of the car raffle, the largest fundraiser at Catherine's House. A young resident will draw the winning ticket of a new Honda Civic at 6 p.m. Tuesday, Dec. 5. (People can still purchase tickets at catherineshouseinc.org or call 704-825-9599.)
Catherine's House is at maximum capacity (14 women and 13 children) and keeps a waiting list. Funds raised by the car raffle will be used for the four-month program designed to empower each resident with the skills needed to gain/maintain employment, create a budget and savings account, and secure safe and affordable housing.
— Jacki McCarthy, special to the Catholic News Herald. Jacki McCarthy is the development director for Catherine's House Inc.